Accelerating Podcasting 2.0 with Blubrry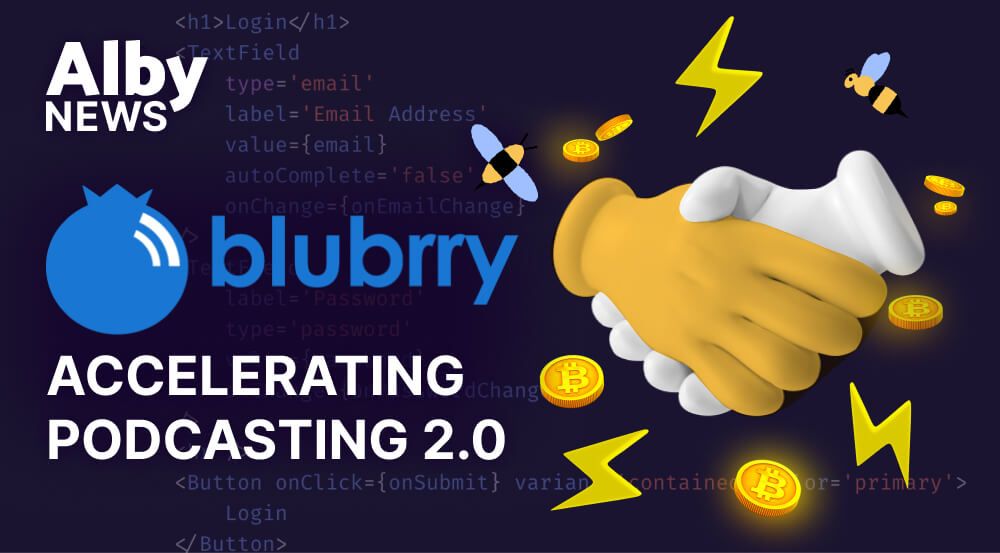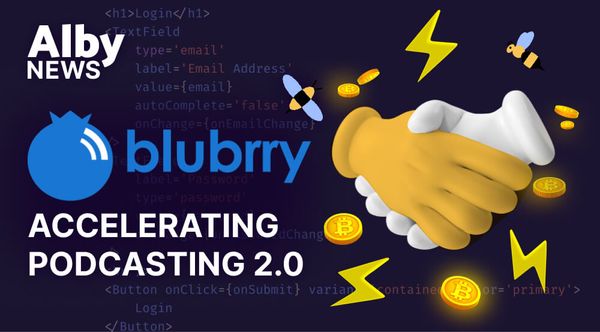 Alby is pleased to announce a new integration with Blubrry; a leading podcasting platform for hosting, distribution, audience statistics, monetization and other tools podcasters need to publish, analyze and grow their podcasts. Alby is helping to bring Blubrry into the world of Value 4 Value (V4V)  by enabling bitcoin payment streaming via the lightning network.
Podcasting 2.0 is a term that refers to a collection of initiatives that advance and decentralize podcasting. V4V is one such initiative that refers explicitly to giving consumers the means to contribute value directly to creators. With a vested interest in making V4V possible across the internet, Alby is the perfect match for integrating with Blubrry's podcasting platform.
Blubrry, Podcasting 2.0 and Value 4 Value
Blubrry has been a pioneer in podcasting and a strong supporter of Podcasting 2.0, a collection of initiatives that advance podcasting's open technology. One of these initiatives is called Value 4 Value, where content creators generate value through their content and, in return, listeners are encouraged to give back the value they receive. This concept was brought to the podcasting industry by a unified specification, the <podcast:value> tag, that allows listeners to support their favorite shows through Value 4 Value-enabled podcast listening apps.
The Bitcoin Lightning Network
The lightning network, a payment protocol layered on top of Bitcoin, is a perfect fit to streamline payments for digital content. It enables inexpensive and instant microtransactions in an open payment network. Every person worldwide has the chance to become a participant in the global online economy as a consumer and seller of digital content. Listeners are able to stream value (bitcoin) to podcasters and interact directly with them through "boostagrams", which are messages linked to payments.
Blubrry has a suite of products including a Publisher dashboard, a PowerPress WordPress plugin and podcast websites. The partnership with Alby will bring this new form of monetization and interaction to more than 150,000 podcasters globally. The goal is to provide a convenient way for podcasters and listeners to interact and transact value directly with each other using bitcoin micropayments throughout Blubrry´s ecosystem.
What Blubrry Users Receive
V4V integration in the PowerPress WordPress plugin
Create an Alby account with your lightning address here
Install the PowerPress plugin and head to the 'Experimental' tab, found in 'Settings'
Paste your Alby lightning address to connect your account. The account details are automatically transferred and your podcast is ready to receive payments.
Setting up V4V in Blubrry Publisher
Head to the 'Experimental' tab, found in 'Manage' of your show in the Blubrry Publisher dashboard
Clicking on 'Visit GetAlby' allows you to create and connect our Alby account. The account details are automatically transferred and your podcast is ready to receive payments.
Start promoting the use of Podverse, Breez, Fountain and other apps that support the new Podcasting 2.0 features. Your listeners are now able to stream money and send boostagrams directly to you while listening to your podcast.
Alby and Blubrry into the Future
According to Blubrry, this implementation is only the first step; they will continue to educate podcasters on the best practices to make audiences understand the Value4Value model and how it can change the entire dynamic of podcast shows.
By contributing to a native value layer for the internet Alby is committed to enable direct monetization flows for content creators, and podcasting is one of the first industries to benefit. With Blubrry being a big proponent for open standards in podcasting, it is a natural fit to see them and Alby come together as partners.
Are you interested in accepting and sending payments instantly over the Bitcoin Lightning Network? Reach out to us.