Alby Partnership Announcement: Accelerating Podcasting 2.0 with RSS.com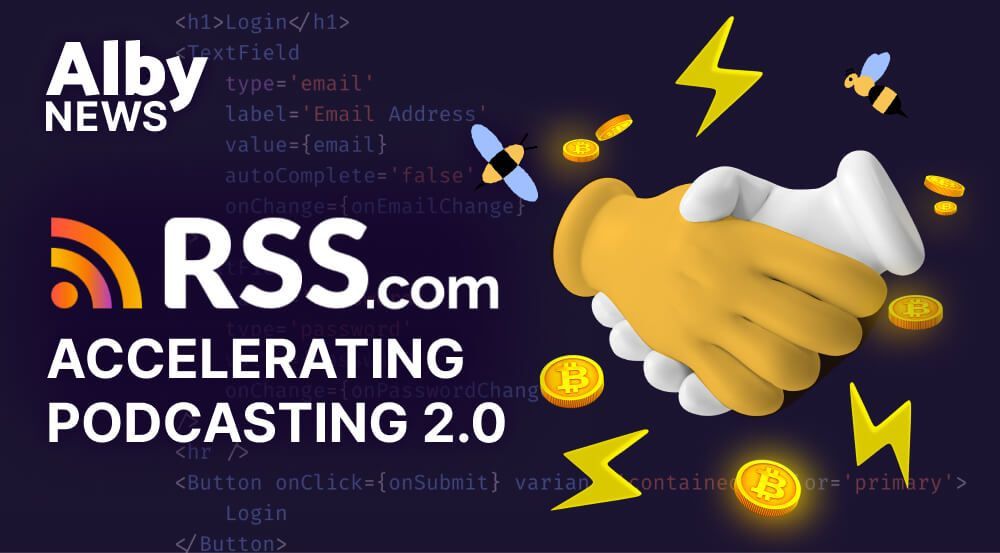 Alby is pleased to announce their new partnership with RSS.com; the leading podcasting platform that manages the hosting, distribution, analytics, and monetization of podcasts. Alby is helping to bring RSS.com into the world of Value 4 Value by enabling Bitcoin payment streaming via the Lightning Network.
Podcasting 2.0 is a term that refers to a collection of initiatives that advance and decentralize podcasting. Value 4 Value is one such initiative that specifically refers to giving consumers a means to contribute value directly to creators. With a vested interest in making Value 4 Value possible across the internet, Alby is the perfect match for integrating with RSS.com's podcasting platform.
RSS.com, Podcasting 2.0 and Value 4 Value
RSS.com has been a pioneer in podcasting and a strong supporter of Podcasting 2.0, a collection of initiatives that advance podcasting's open technology. One of these initiatives is called Value 4 Value, where content creators generate value through their content and, in return, listeners are encouraged to give back the value they receive. This concept was brought to the podcasting industry by a unified specification, the <podcast:value> tag, that allows listeners to support their favorite shows through Value 4 Value-enabled podcast listening apps.
The Bitcoin Lightning Network
The Lightning Network, a payment protocol layered on top of Bitcoin, is a perfect fit to streamline payments for digital content. It enables inexpensive and instant microtransactions in an open payment network. Every person worldwide has the chance to become a participant in the global online economy as a consumer and seller of digital content. Listeners are able to stream value (bitcoin) to content creators, and interact directly with them through "boostagrams", which are messages linked to payments.
RSS.com wants to bring this new form of monetization and interaction to their platform and has partnered with Alby to do so. The goal is to provide a convenient way for podcasters and listeners to interact and transact value directly with each other using Bitcoin micropayments on the Lightning Network.
What RSS.com Users Receive
Alby offers full Bitcoin Lightning wallet functionality via an API that allows RSS.com users to link their getalby.com wallet account and enable podcasting 2.0 payments. Podcasters now have the ability to:
manage their podcast feed with RSS.com and automatically add the podcast:value tag
start accepting bitcoin payments (i.e. boosts) and messages (i.e. boostagrams) over the Bitcoin Lightning Network
conveniently see the wallet balance and the number of received boostagrams on the RSS.com dashboard
Alby and RSS.com into the Future
Benjamin, a co-founder at RSS.com, had this to say about the advancement of V4V into the podcast hosting space, "Our mission at RSS.com is to give a voice to everyone. With this Value 4 Value integration with Alby generated wallets on the Lightning Network, we are able to give podcast listeners a voice that speaks back directly to podcast creators. We are so excited at the potential this unlocks for everyone."
Alby is a project committed to building out Lightning Network infrastructure, and podcasting is one of the first industries to benefit. With RSS.com being a big proponent for open standards in podcasting, it is a natural fit to see them and Alby come together as partners.
Are you interested in accepting and sending payments instantly over the Bitcoin Lightning Network? Reach out to us.