Alby Partnership Announcement: Disctopia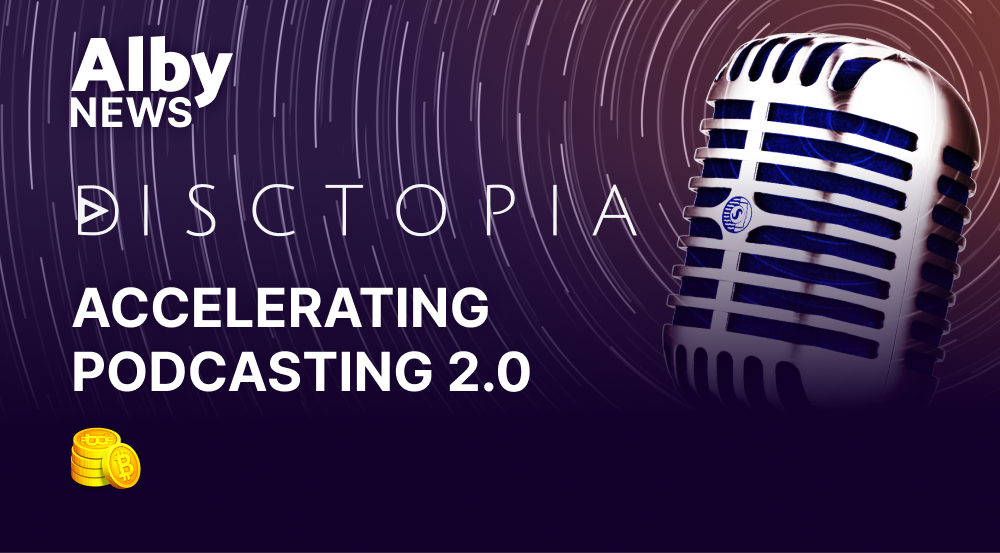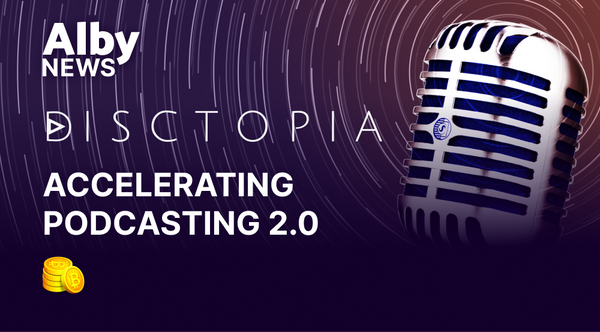 Alby is pleased to announce a new partnership with Disctopia; a streaming platform for creators covering music, podcasts, videos, audiobooks, and mobile apps for consumers. Alby is helping to bring Disctopia´s platform into the world of Value 4 Value by enabling bitcoin payment streaming.
Podcasting 2.0 is a term that refers to a collection of initiatives that advance and decentralize podcasting. Value 4 Value is one such initiative that specifically refers to giving consumers a means to contribute value directly to creators. With a vested interest in making Value 4 Value possible across the internet, Alby is the perfect match for integrating with Disctopia´s streaming platform.
Disctopia, Podcasting 2.0, and Value 4 Value
Disctopia has been a strong supporter of Podcasting 2.0, a collection of initiatives that advance podcasting's open technology. One of these initiatives is called Value 4 Value, where content creators generate value through their content and, in return, listeners are encouraged to give back the value they receive.  
The Bitcoin Lightning Network
The lightning network, a payment protocol layered on top of bitcoin, is a perfect fit to streamline payments for digital content. It enables inexpensive and instant microtransactions over an open payment network. Every person worldwide has the chance to become a participant in the global online economy as a consumer and seller of digital content. Listeners are able to stream value (bitcoin) to content creators and interact directly with them through "boostagrams", which are messages linked to payments.
Disctopia wants to bring this new form of support and interaction to its content streaming platform and has partnered with Alby to do so. The goal is to provide a convenient way for listeners and creators to interact and transact value directly with each other using bitcoin micropayments on the lightning network.
What Disctopia Customers Receive
"Users can bring their own Alby wallet to existing applications"
Alby offers full bitcoin lightning wallet functionality that allows Disctopia customers to link their getalby.com wallet account and enable podcasting 2.0 payments. Publishers can create an Alby wallet account or use their existing Alby account. In a few clicks, creators on Disctopia now have the ability to easily receive payments from their followers (video).  
Over several phases, Disctopia plans to integrate the Alby wallet payment API to show account balances and boostagrams directly on the dashboard to creators. Furthermore, the Alby API will be integrated into Disctopia´s mobile apps to allow mobile users to send payments to their favorite creators instantly and directly over the open bitcoin payment network.  
Alby and Disctopia into the Future
Patrick Hill, the founder of Disctopia, had this to say about the partnership, "We are very excited about partnering with Alby and integrating Value 4 Value. With this partnership and integration, we will remain committed to paying creators for their content. Through Value 4 Value, Disctopia will be able to pay creators around the world regardless of where they live or how their content is consumed. Our platform will be one of the first to pay musicians and podcasters fairly per stream, download, and play".
Alby is a project committed to building bitcoin and lightning network infrastructure, and podcasting is one of the first industries to benefit. Disctopia and Alby's collaboration to bring instant and direct micropayment monetization to new content formats, such as video, music, and audiobooks is another promising sign for the lightning and Value 4 Value movement.
Are you interested in accepting and sending payments instantly over the bitcoin lightning network? Reach out to us.