Alby Partnership Announcement: Accelerating Podcasting 2.0 with Podverse
Alby is pleased to announce a new partnership with Podverse; a cross-platform podcast player available on iOS, Android, F-Droid, and web.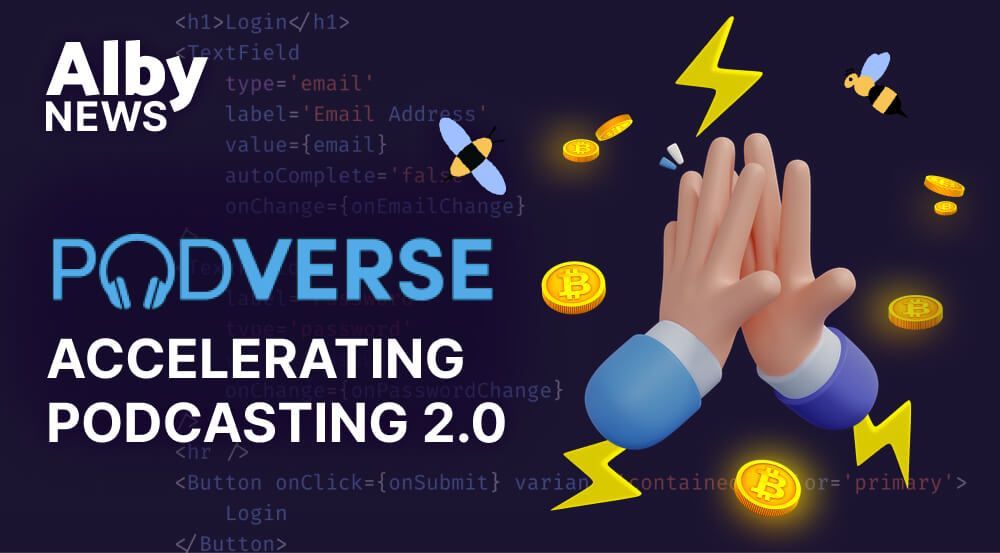 Alby is pleased to announce a new partnership with Podverse; a cross-platform podcast player available on iOS, Android, F-Droid, and web. Alby is helping to bring Podverse´ mobile apps into the world of Value for Value by enabling Bitcoin payment streaming via the Lightning Network.
Podcasting 2.0 is a term that refers to a collection of initiatives that advance and decentralize podcasting. Value for Value is one such initiative that specifically refers to giving consumers a means to contribute value directly to creators. With a vested interest in making Value for Value possible across the internet, Alby is the perfect match for integrating with Podverse´s podcast player apps.
Podverse, Podcasting 2.0 and Value for Value
Podverse has been a strong supporter of Podcasting 2.0, a collection of initiatives that advance podcasting's open technology. One of these initiatives is called Value for Value, where content creators generate value through their content and, in return, listeners are encouraged to give back the value they receive. Podverse has already been offering users of their web player a way to support podcasters using the Alby browser extension.  
The Bitcoin Lightning Network
The Lightning Network, a payment protocol layered on top of Bitcoin, is a perfect fit to streamline payments for digital content. It enables inexpensive and instant microtransactions in an open payment network. Every person worldwide has the chance to become a participant in the global online economy as a consumer and seller of digital content. Listeners are able to stream value (bitcoin) to content creators and interact directly with them through "boostagrams", which are messages linked to payments.
Podverse wants to bring this new form of support and interaction to its mobile apps and has partnered with Alby to do so. The goal is to provide a convenient way for listeners and podcasters to interact and transact value directly with each other using Bitcoin micropayments on the Lightning Network.
What Podverse Users Receive
"Users can bring their own Alby Lightning wallet to existing applications"
Alby offers full Bitcoin Lightning wallet functionality via an API that allows Podverse users to link their getalby.com wallet account and enable podcasting 2.0 payments.
The Alby wallet API implemented OAuth an open standard that apps use to provide client applications with secure delegated access. Thus Podverse users create an Alby wallet account or use their existing Alby account to grant specific access rights to their Alby wallet. In a few clicks, listeners now have the ability to easily send payments on Podverse while listening to a podcast. Since all payments are sent directly from the Alby wallet there is no need for the user to fund the Podverse account with bitcoin first.
This new mechanism of "bring your own bitcoin wallet" allows adding Lightning integration to all mobile and web applications.
Alby and Podverse into the Future
Mitch, founder of Podverse, had this to say about the advancement of Value for Value into podcast listening apps, "We're very excited that Alby has made Value for Value possible across all of our apps. The integration was remarkably easy to set up, and the team has been super helpful every step of the way. We love the fact that Alby is open source, and lets people connect the same wallet across any app or website, not just Podverse."
Alby is a project committed to building out Lightning Network infrastructure, and podcasting is one of the first industries to benefit. With Podverse being a big proponent for open standards in podcasting, it is a natural fit to see them and Alby come together as partners.
Are you interested in accepting and sending payments instantly over the Bitcoin Lightning Network? Reach out to us.