Introducing Bitcoin Payments for Podcasters with Alby
Value 4 Value is a form of Podcasting 2.0 monetization. With Alby, podcasters can receive bitcoins from listeners directly. The wallet shows boostagrams and creds to prepare the RSS feed.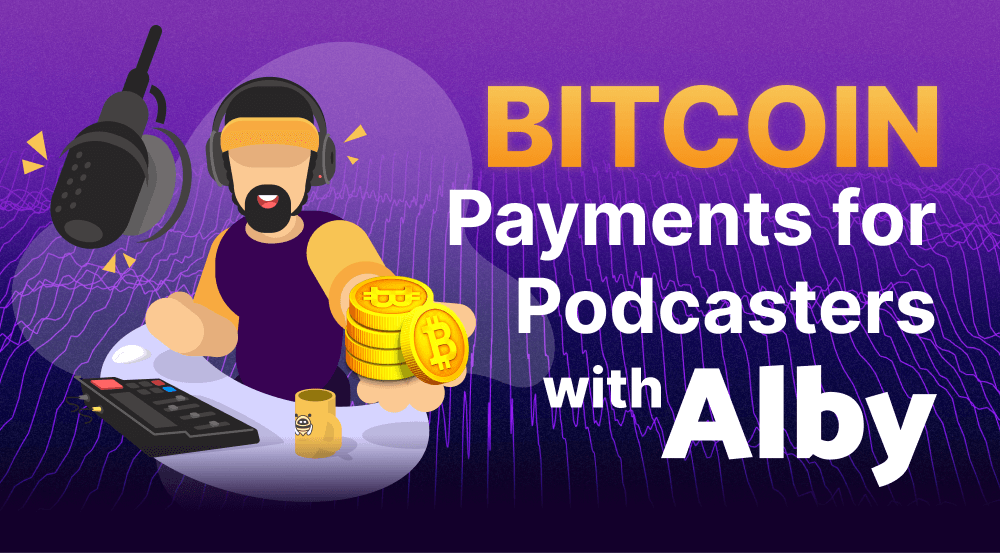 TL;DR
Value 4 Value is a new form of monetization for podcasters introduced by Podcasting 2.0
Now, with Alby, every podcaster can receive bitcoins directly from their listeners
The wallet shows boostagrams and all the credentials to prepare the RSS feed.
Introduction
Thanks to Podcasting 2.0, podcast creators have the chance to receive payments directly from their audience. Podcasting 2.0 is an umbrella term that covers a collection of initiatives to advance podcasting technology and decentralize podcasting, taking control of the medium out of the hands of large technology companies.
One part of this new standard is the Value 4 Value system as a way for podcasters to receive direct payments from listeners in the form of bitcoins. It uses the Lightning Network which is a layer on top of Bitcoin designed to facilitate rapid transactions and micropayments.
Listeners can send micropayments that can be scheduled on a per-minute basis or can be given at particular times in an episode, known as a "boost". An increasing number of podcast players also allow for short messages to be sent with a boost known as a "boostagram".
This article helps you to create your own Alby podcaster wallet
Create your own Alby podcaster wallet
Step 1: Open an account on getalby.com/podcast-wallet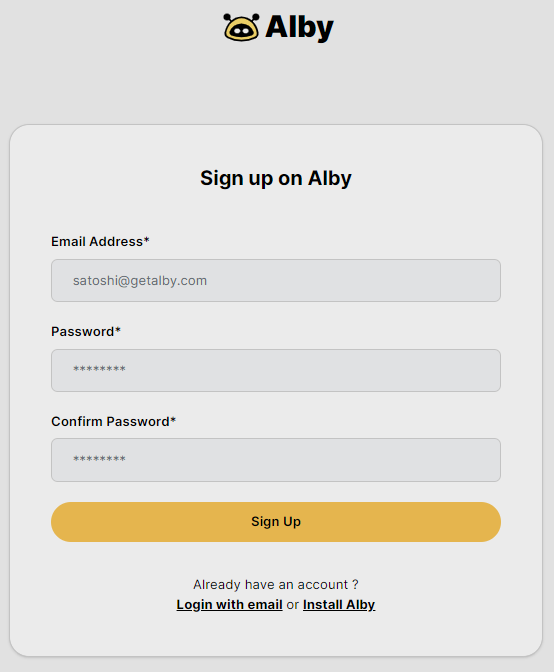 Step 2: Go to the "Wallet" tab

Step 3: Scroll to "Podcasting 2.0 - Value 4 Value" section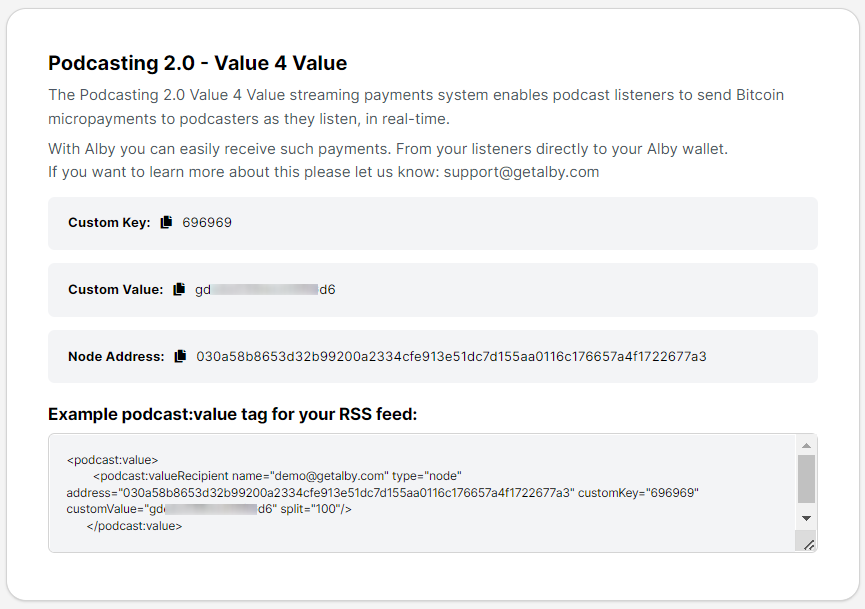 Here you will find all the credentials that you need to add to your RSS feed to receive bitcoin: Custom Key, Custom Value and Node Address.
You will also find a value tag prefilled with your credentials.
A value tag tells your listeners where to send payments to. You can find more information about the official specification here.
You might wonder what "split=100" means. It defines the number of shares of the payment you will receive. In this case, you will receive 100% of the payment. But you can easily adjust it and let colleagues or guests receive payments from your audience, too.
Prepare your RSS feed to receive Value 4 Value payments
Now you are ready to prepare your RSS feed. Read on here to learn how can receive boostagrams from your listeners using:
a podcasting hosting service
WordPress as a hosting service for your podcast
your own website to host your podcast
Tell your listeners to use a podcast player that supports Value 4 Value payments and receive sats directly in your Alby wallet.
If you have trouble setting up your podcast for Value 4 Value payments or if you just finished the setup, let us know via Email or Telegram. We are happy to help or send a test payment anytime.