Go Nodeless.io with Alby as a merchant
Nodeless allows you to accept bitcoin payments in your online store, charity or fundraiser, all without all the complexities of managing a bitcoin lightning node. Connect your Alby account and get payments sent instantly into your own wallet.
Start accepting bitcoin
Many brands accept bitcoin and other cryptocurrencies today. Some major brands of online retailers and stores that take bitcoin as payment are Microsoft Store, Overstock, Namecheap, NewEgg or Rakuten. Many of them realized the benefits of bitcoin to process transactions faster, pay lower transaction fees, reduce the risk of fraud by avoiding chargeback risk or simply by reaching a broader market of people who have difficulties getting the right currency for the shop.
Now you might think these brands are multi-billion dollar companies with a whole team of engineers to set up their shop for bitcoin payments (e.g. with an own node and proper tax accounting). Well, yes that might be true. But guess what, similar to services like Shopify which revolutionized the world of e-commerce for smaller sellers, new tools make it incredibly easy to accept bitcoin payments. No technical knowledge required.
A unified bitcoin platform for online stores and more
Nodeless is such a tool which removes all the complexity out of accepting bitcoin payments in your online store, charity or fundraiser. No need to run a bitcoin or lightning node or to write code on your own. Instead, you get payments sent automatically to your cold bitcoin storage or lightning address. To make it even easier, Nodeless offers direct integrations into e-commerce systems such as WooCommerce or Prestashop.
All you need is a lightning address to start earning bitcoin from your clients. Alby has you covered. Every user of an Alby account obtains a customizable lightning address, which is probably the simplest way to receive bitcoin payments today.
How to accept bitcoin payments for my ecommerce store
… And this is how it works together with Nodeless.
1) Sign up on Nodeless.io.
2) Add your lightning address for automated withdrawals into your own wallet.
(Currently also a bitcoin onchain address is required which you also get out of the box with an Alby account here.)
3) Add a 'Store' and create your API Key under 'Profile' and 'Settings'.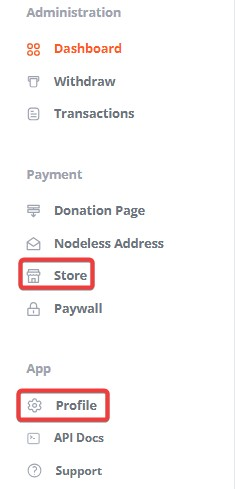 4) Install the Nodeless plugin for Prestashop or the plugin for WooCommerce if your shop runs on WordPress.
5) Enter your API Key and Store ID into the plugin for WooCommerce.
6) Activate Nodeless in your WooCommerce admin dashboard.
7) This is how it looks for the buyer after choosing bitcoin as payment method during the checkout.
8) As a seller you see the payment in your dashboard,
9) … and not even a second later the payment arrives in your Alby account.
That's it. We just sold some Alby stickers. 🥳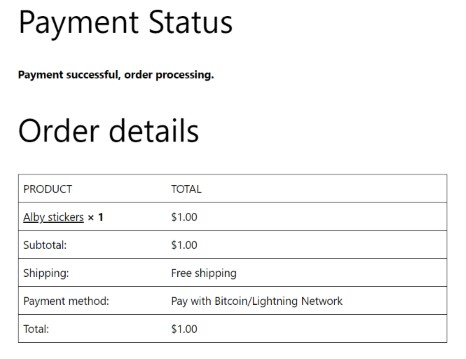 Plug and play bitcoin payments with Nodeless and Alby
The whole process took not longer than 30 minutes or even less if you already have an online shop up and running. While new technologies can be confusing and a bit scary, bitcoin has the opportunity to transform eCommerce as we know it. Tools like Nodeless make it incredibly easy to receive bitcoin payments.
If you have questions about using Alby as your payment processor, feel free to reach out anytime.