Monthly Alby Buzz: Alby's Win at the Bitcoin Conference and The Case for Value 4 Value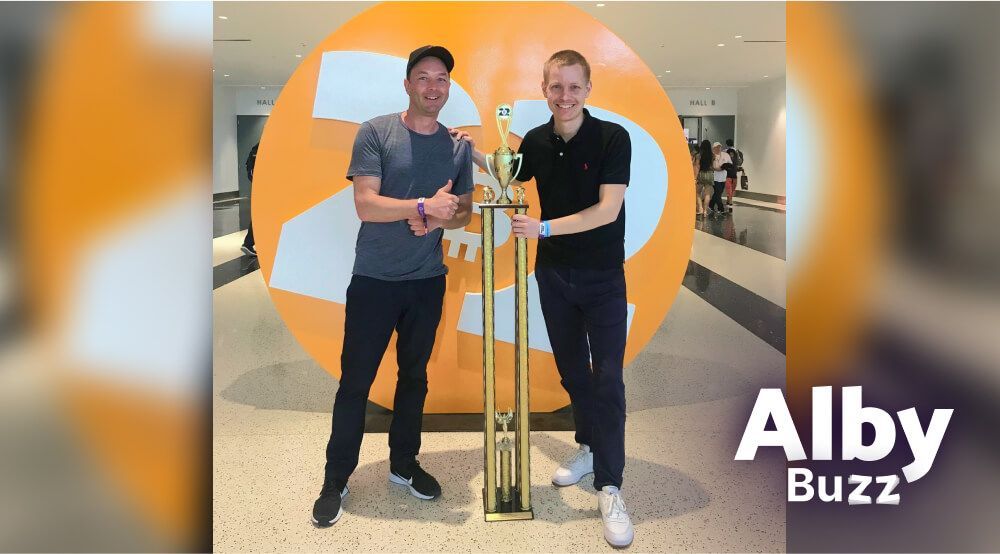 Dear Alby Community,
This is the third edition of the monthly Alby Buzz
In this edition we cover:
Bitcoin Conference 2022, Miami
The Case for Value 4 Value
What's new in Alby
Bitcoin Conference 2022
The four-day event brought together developers, business leaders, policymakers, and builders of the Bitcoin economy. The 2022 edition was the second year running that the Bitcoin Conference took place in Miami, relocating from its original home in Los Angeles in 2021.
Alby took part as a community-driven open-source project and was even selected to participate in this year's pitch competition. Thanks a lot to Bitcoin Magazine for providing this opportunity and to Matt Odell as an organizer of the open-source stage.
Major announcements by BitPay, Shopify, and Blackhawk payment network, in addition to Kraken and Cash App, to integrate Lightning are great signals that access to Bitcoin Lightning will become easier for users.
But our highlight: … *drumrolls*…. Alby was selected as the winner of the pitch competition in the Lightning track <oh! yes dot gif> - a delightful confirmation and appreciation for all contributors and community members.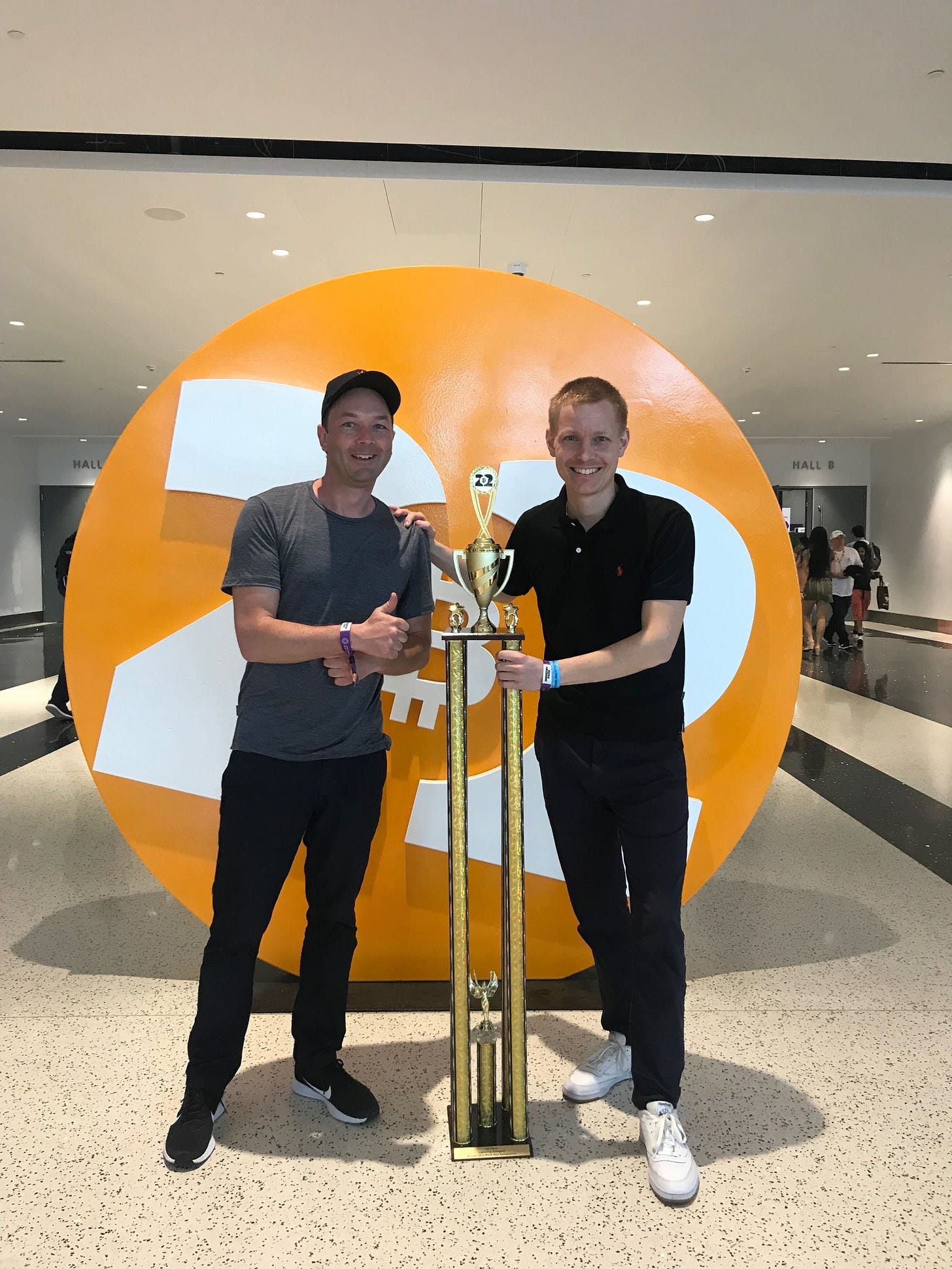 If you want to learn how Alby enables the application layer on top of Bitcoin and how we are embedding sats in every web experience, check out our presentation (Bumi and Moritz begin at 48:51)
The Case for Value 4 Value
For a lot of us, Bitcoin has been the best teacher about money and finance than all of our previous education. And, one key learning in that is how value exchange takes place. At Alby, we are attempting to build a world where everyone should have the chance to participate in the online economy in a self-sovereign way, which means receiving value directly from those who consume your work.
So, to expand on that understanding we wrote a piece on what Value 4 Value (V4V) is and how Bitcoin makes this value exchange direct and instant. Here's a quick prelude to it -
In a world of content production backed by the gigantic industries of advertising and sponsorship, how does bitcoin enable the age-old Value 4 Value model as seen in busking? The mess that is Digital Rights Management (DRM) has only enabled walled gardens of paywalled content. Any online info that is non-scarce, easily reproduced, and effortlessly liberated requires a voluntary model. One way the V4V model stands out from the conventional methods of raising funds is the flippening of the two steps of payment and enjoyment of the content. When a customer decides the value and pays directly to the supplier, the supplier places the responsibility on the customer to value the service. And when they do offer some value, one can find a balance between the effort & its return. If this isn't true freedom, what is? As advertisers decide what should exist online, the model of monetization on the internet is broken. What is needed is a direct P2P transfer of value online. This is made possible through Bitcoin - whose instant transfer is facilitated through the Lightning Network. Check out Podcasting 2.0 as a successful V4V model enabled by the Podcast Index and apps like Breez, Fountain, and Sphinx that allow users to stream payments to their favorite podcasters while they listen.
Like it? You can read the complete article here:
(Feel free to share it, it is under the CCA ShareAlike 4.0 license)
What's new in Alby
This month was busy with traveling to the Bitcoin Conference and following up with all the exciting contacts we made in Miami. Still, a new release is in the pipeline and we would like to give you a sneak peek into it:
If you wonder what websites already accept Bitcoin Lightning based on the Lightning Web Standard (WebLN) today, you'll find an overview in the upcoming release: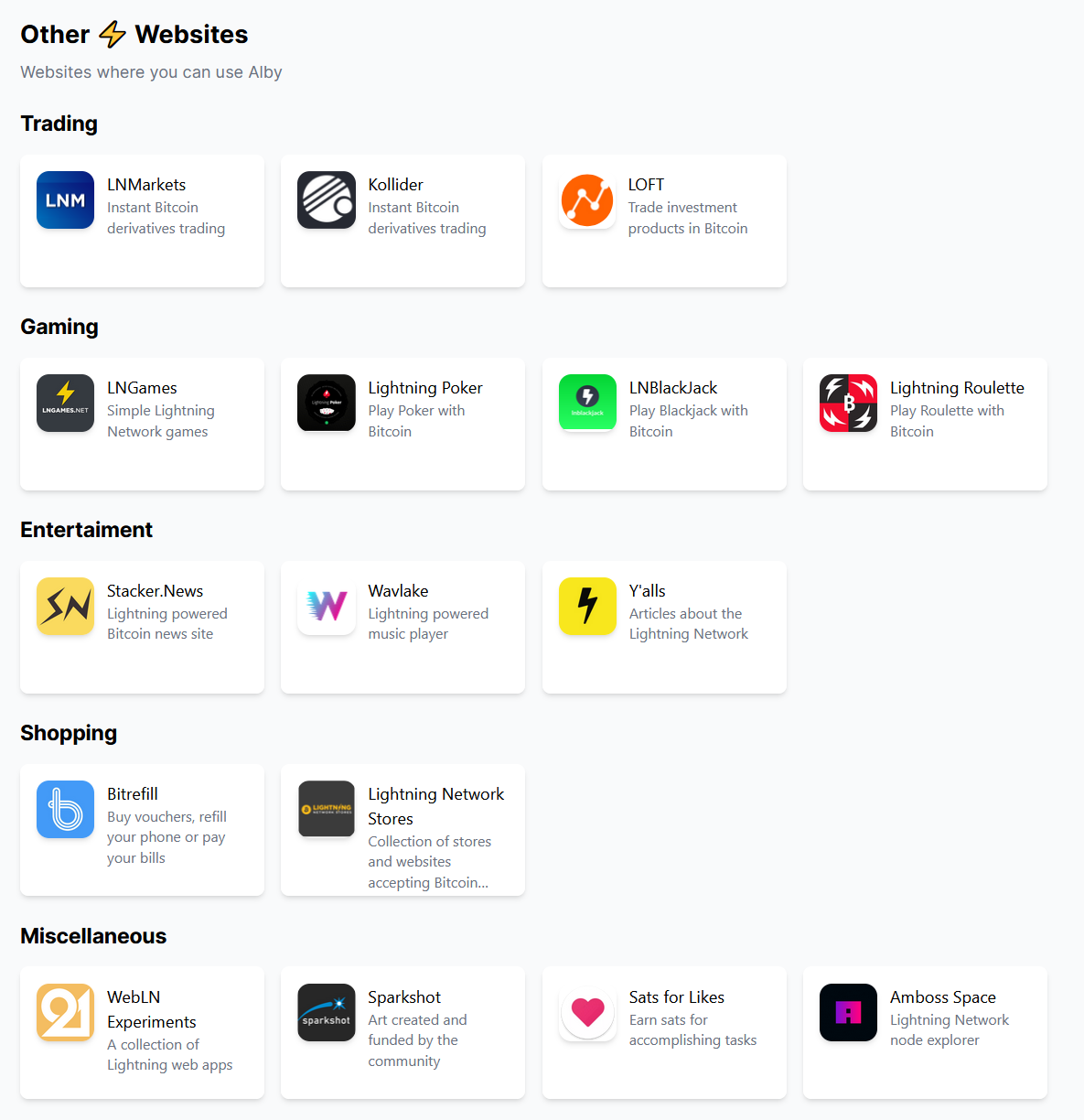 Let us know if we should add another project to the list.
That's it from the hive for this month. For more, visit the website and follow Alby on Twitter.