Podcast Mirror - Podcasting 2.0 for everybody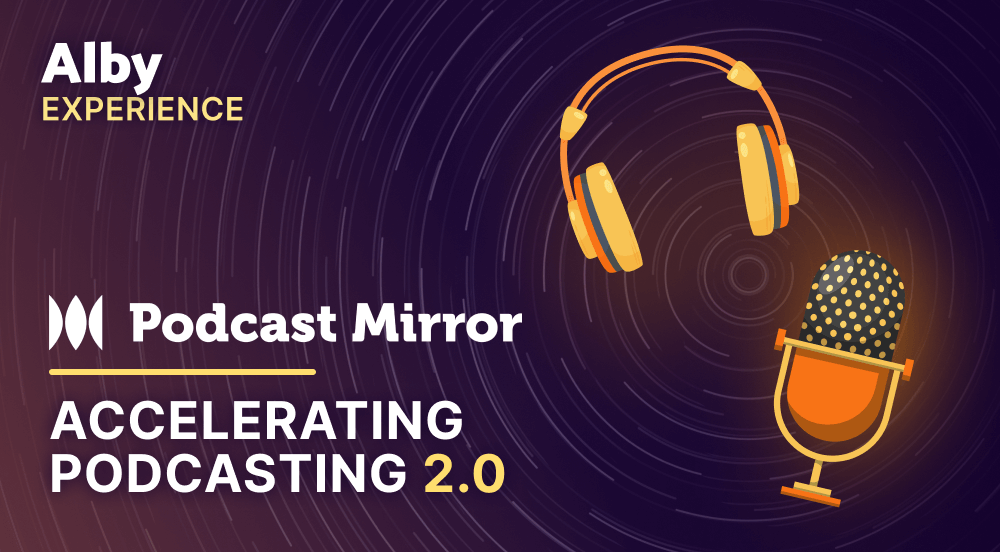 Podcast Mirror supercharges your podcast RSS feed with Podcasting 2.0 features and Value 4 Value payments enabled by Alby.
Podcast Mirror drives Podcasting 2.0
Podcast hosting services are often neglecting the latest podcasting innovations. Many podcasters who are eager to harness the cutting-edge capabilities of Podcasting 2.0 often find themselves hindered by their existing podcast hosting platforms not yet fully supporting these features.
However, these advancements open up exciting avenues for podcasters to engage with your audience through modern podcast apps, introducing an array of new features.
The great news is that all podcast creators, no matter where they choose to host their shows, have the opportunity to fully embrace these innovative features and actively engage in the exciting evolution of Podcasting 2.0.
About Podcast Mirror
Podcast Mirror, developed and operated by the renowned podcast hosting platform Blubrry, mirrors the podcast RSS feed and makes it Podcasting 2.0 ready!
The Podcast Mirror feed can even be used as your primary podcast feed. As a podcaster, you receive a full-working feed with high performance making sure anyone loading your podcast feed does not encounter a problem.
Podcast Mirror works with all of the podcast hosting services you're familiar with and most importantly enables Podcasting 2.0 features such as Live, Medium or Value 4 Value (V4V).
Go Value 4 Value with Podcast Mirror and Alby
V4V is a proven form of monetization inspired by busking where performers pass around an open box and the audience puts in money what they felt the show was worth. Thanks to digital money like bitcoin artists are not bound to a physical audience but can receive contributions from anybody, anytime across the globe.
That's just one reason why according to Podcast Mirror "this is one of the most exciting new features yet and, as far as we are concerned, the most significant opportunity for podcasters to earn additional revenue for the show."
At Alby we are fully committed to helping creators make a living out of their work and enable you to monetize content directly from your audience.
How to get started with Value 4 Value on Podcast Mirror?
Visit Podcast Mirror and sign in
Add you podcast feed which you want to enable for V4V payments and add it to your account by clicking 'Next'.
Once you are on your dashboard, click on the Podcasting 2.0 tab and the 'Connect Alby' button.
If you don't have an Alby Account yet, you can now sign up and click on 'Connect to Podcast Mirror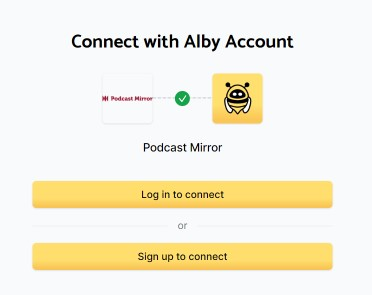 You are immediately directed back to your Podcast Mirror dashboard where you see your account details.
Congrats! You are now ready to receive payments from your listeners. Take your new Podcast Mirror URL of your podcast when submitting your RSS feed to podcast directories, such as Podcastindex.
Alby and Podcast Mirror into the Future
Alby's mission is to develop bitcoin payment infrastructure, simplifying its integration into apps. Podcasting is one of the first industries to benefit. Podcast Mirror and Alby's collaboration to bring instant and direct micropayment monetization to established content formats, such as podcasts is another promising sign towards listener-based monetization for the creator economy.
Are you interested in accepting and sending payments instantly and share value automatically with others? Reach out to us.