Podhome - your new home for your V4V podcast with Alby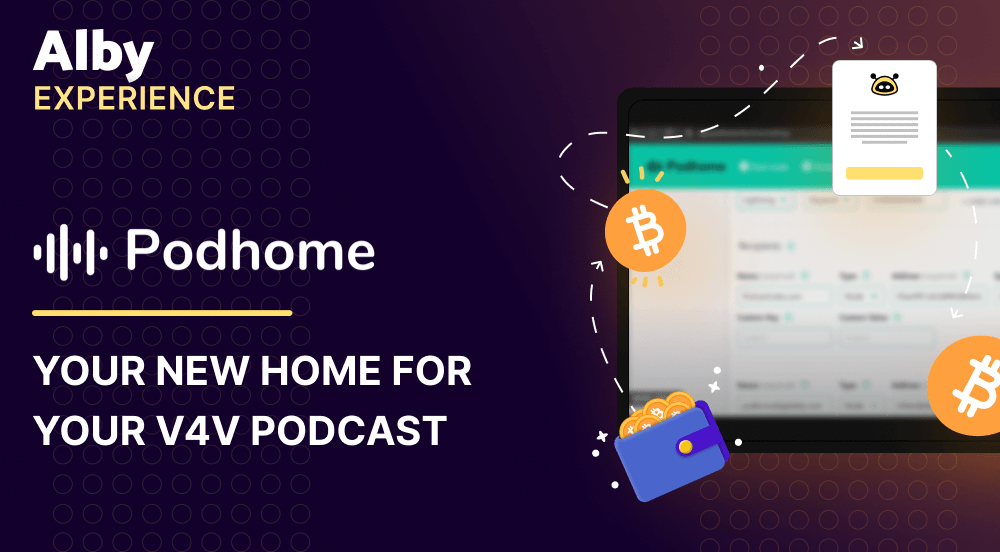 Alby is pleased to announce a new integration with Podhome, a new podcasting platform for hosting, distribution, audience statistics, monetization and other tools podcasters need to publish, analyse and grow podcasts. Podhome together with Alby enable podcasters to receive payments directly from their listeners.
Say hello to Podhome
Podhome is a new podcast hosting provider packed with features such as unlimited shows and episodes for just one subscription, audio enhancement, a dedicated podcast website, an embeddable player and analytics.
The Podhome AI helps to speed up the post show processes by suggesting episode titles, creating show notes, transcript and chapters, letting podcasters focus completely on the content. Together with its audio enhancement features, Podhome minimises time consuming work for optimising audio files and is a perfect partner for every podcaster.
Centred around Podcasting 2.0
Podhome embraces Podcasting 2.0. making it compatible with modern podcasting apps. Podcasting 2.0 is a collection of initiatives that advance podcasting's open technology with features like transcripts, clips, chapters and Value 4 Value to lift the experience of podcast listeners to a new level. Value 4 Value as one of these initiatives enables content creators to generate value through their content and, in return, encourages listeners to give back the value they receive. This concept was brought to the podcasting industry by a unified specification, the <podcast:value> tag, that allows listeners to support their favorite shows through Value 4 Value-enabled podcast listening apps.
Dedicated Value4Value service
Podhome provides podcasters a top notch experience in monetizing content directly from listeners.
Bitcoin as a payment protocol is a perfect fit to streamline payments for digital content. It enables inexpensive and instant microtransactions in an open payment network. Every person worldwide has the chance to become a participant in the global online economy as a consumer and seller of digital content. Listeners are able to stream value (bitcoin) to podcasters and interact directly with them through "boostagrams", which are messages linked to payments.
What Podhome users receive
As a podcaster on Podhome you can configure your Value 4 Value recipients (who gets what) per show and per episode. Whether you're collaborating with team members such as a co-host, content writer, designer, or hosting a guest on your show, you can transparently split the income for each episode, ensuring that all contributors are fairly compensated and aligned in their efforts to promote the content. Every new listener can easily contribute value, thereby supporting the monetization of your content. Furthermore you can use Value Time Splits to send value to someone else during your episode, like to an artist when you play their song. This can be especially useful when compensating an artist whose music is featured during your show. Podhome seamlessly integrates this functionality, making it an excellent platform for musicians and artists looking to share their work and receive compensation.
How to get started
All you need is an Alby lightning address - basically the simplest form to receive payments on the web. Get your personal lightning address by signing up for an Alby account. If you wonder what you can do with the money in your account, don't worry. Alby is a multipurpose account. You can easily connect to a variety of other apps and make use of your bitcoin. But this is how you enable your podcast to receive payments from your listeners.
Alby and Podhome into the Future
Barry, founder of Podhome, had this to say about the advancement of V4V into podcasting: "V4V makes payments transparent, fun and interactive for podcasters AND artists that host their music on Podhome. I love Alby for making it extremely easy to create a wallet that you can use for V4V. "
By contributing to a native value layer for the internet Alby is committed to enable direct monetization flows for content creators, and podcasting is one of the first industries to benefit. With Podhome being a big proponent of add free podcasts, it is a natural fit to see them and Alby come together as partners.
Are you interested in accepting and sending payments instantly over the bitcoin lightning Network? Reach out to us.