Primal Unveils One-Tap Zaps: Seamless Zaps using WebLN & Alby
Primal.Net, the social media client built on Nostr, has recently introduced an exciting integration of WebLN, enabling users of bitcoin lightning wallets such as Alby to seamlessly one-tap zap.. Offering users a frictionless experience. Let's delve into how this integration enhances the social media experience for Primal users.

Peer-to-peer Payments with WebLN is a set of specifications for lightning apps and client providers to facilitate communication between web apps and users  It enables lightning-fast payments using bitcoin's lightning network. Primal's integration of WebLN allows users of WebLN-enabled wallets, such as Breez, Blixt, or Alby, to initiate one-tap zaps on the app effortlessly. This eliminates the need for scanning QR codes for initiating payments. Users can now seamlessly send bitcoin and show appreciation to fellow Nostr users truly peer-to-peer.
Enhanced Social Interactions
The integration of WebLN brings a new dimension to social interactions on Primal. Users can now instantly support content creators, influencers, or friends with a simple zap, reinforcing engagement and community building. Whether it's tipping for great content, donating to a cause, or rewarding fellow users for their contributions: Giving value back as they see fit. #value4value, Seamless zaps foster a sense of appreciation and encourage deeper social connections within the Nostr ecosystem.
In an exciting announcement, Primal.Net's developer and CEO Miljan unveiled the new feature of Zaps.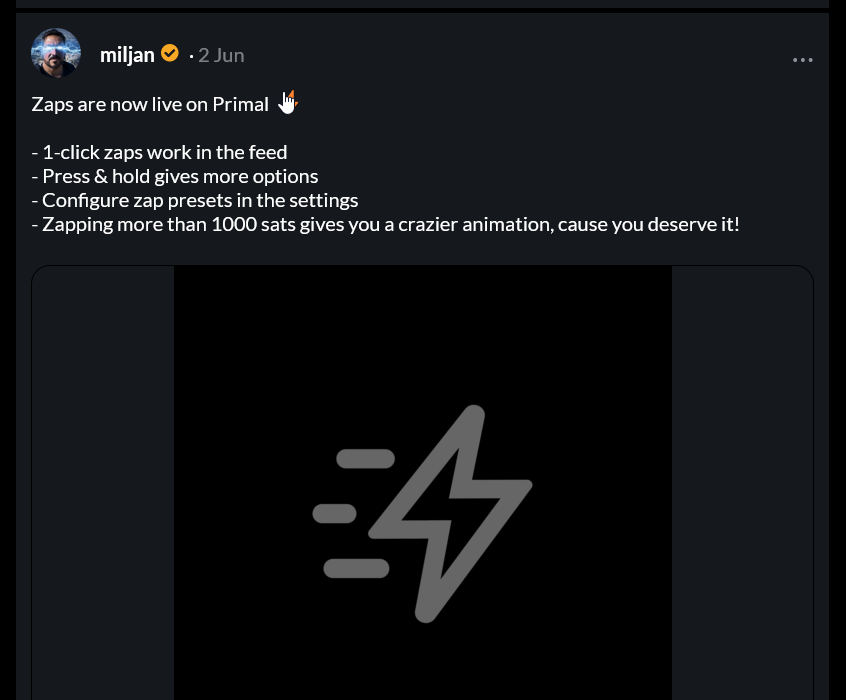 With one-tap zaps working seamlessly in the feed, users can effortlessly engage with content creators or friends, supporting them with a simple tap. Pressing and holding during the zap process unlocks a range of additional options enabling users to customize their interactions with comments and explore more ways to connect within the Nostr community.
Alby is your companion for bitcoin and Nostr
The combination of the Alby extension with Primal brings unparalleled ease of use, as it seamlessly supports WebLN functionality for one-tap zaps and management of Nostr keys (short guide). Alby supports the signing of messages in a secure way by allowing users to import or generate their Nostr private key. This streamlined integration eliminates the need for manual configurations or additional steps. Furthermore, users can create app-specific budgets, allowing them to focus on their interactions and effortlessly initiate zaps with a single click.
Using Alby on Primal
As demonstrated below, once you have logged into primal.net with Alby, you can now zap people's notes with one-tap zaps using Alby and setting a budget.
Step 1: Go to settings and choose a zap default amount.
Step 2. Make your first zap by clicking the lightning icon on a user's note.
Step 3. Alby will pop up automatically,  you can tick the box 'remember me & set a budget'
Step 4. Choose a budget, and click pay now.
Step 5. Now you can go ahead and one-tap zap on other notes without having to confirm each zap.
Please note: when you have used all of your budget, Alby will pop up, remind you and ask you to re-set your budget.
Do you want to build a bitcoin lightning web app yourself? Check out the WebLN guide or contact us to discuss your idea.