The 2-minute Alby guide to Nostr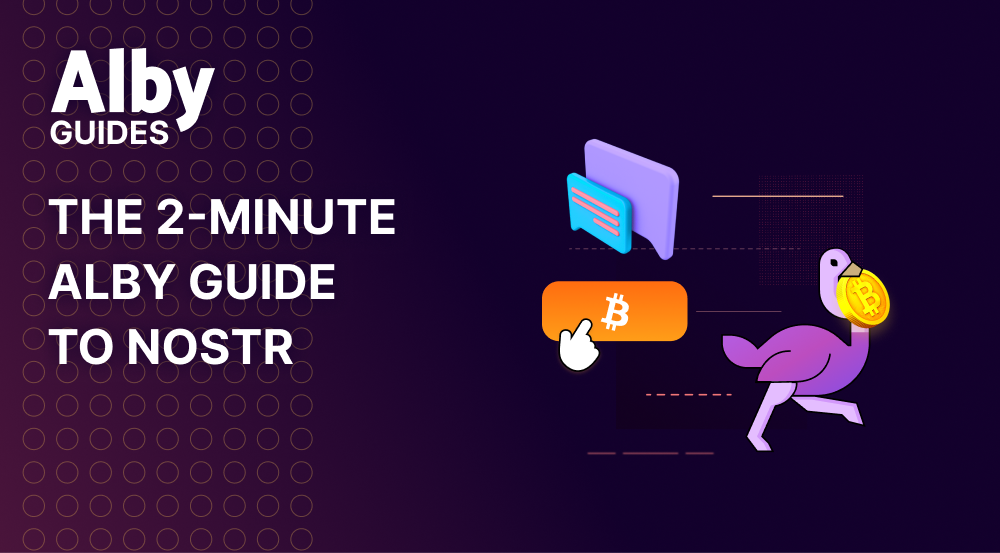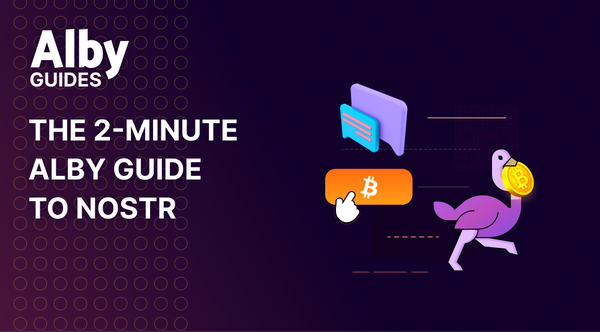 Things are happening fast in Nostr land. Really fast! So I spare you some random introduction and explanation. There are more and more great resources to learn out there! Have a look at our intro. And did you know there is already a first conference coming up?!
So here is another 2 minute getting started with Nostr using Alby.
The Alby extension is your digital wallet for your browser. Use it to manage your online lightning payments and manage your (Nostr) identities.
Depending on your browser check the Mozilla Firefox Add-on store or the Chrome web store.
Alby currently works best on desktop browsers but people already use it on mobile with the Kiwi Browser for Android or Orion for iOS - official mobile support is planned.
For additional privacy and anonymity use the Tor Browser. Alby works great in the Tor Browser.
Configure your lightning connection
Once installed Alby will ask you for an unlock password. This password is used to encrypt sensitive account data, you use it to open the extension. (don't mix this up with your lighting account password).
Then connect your preferred ligthning account. You can either connect your own node or an account like LNBits or LNDHub or use an Alby account.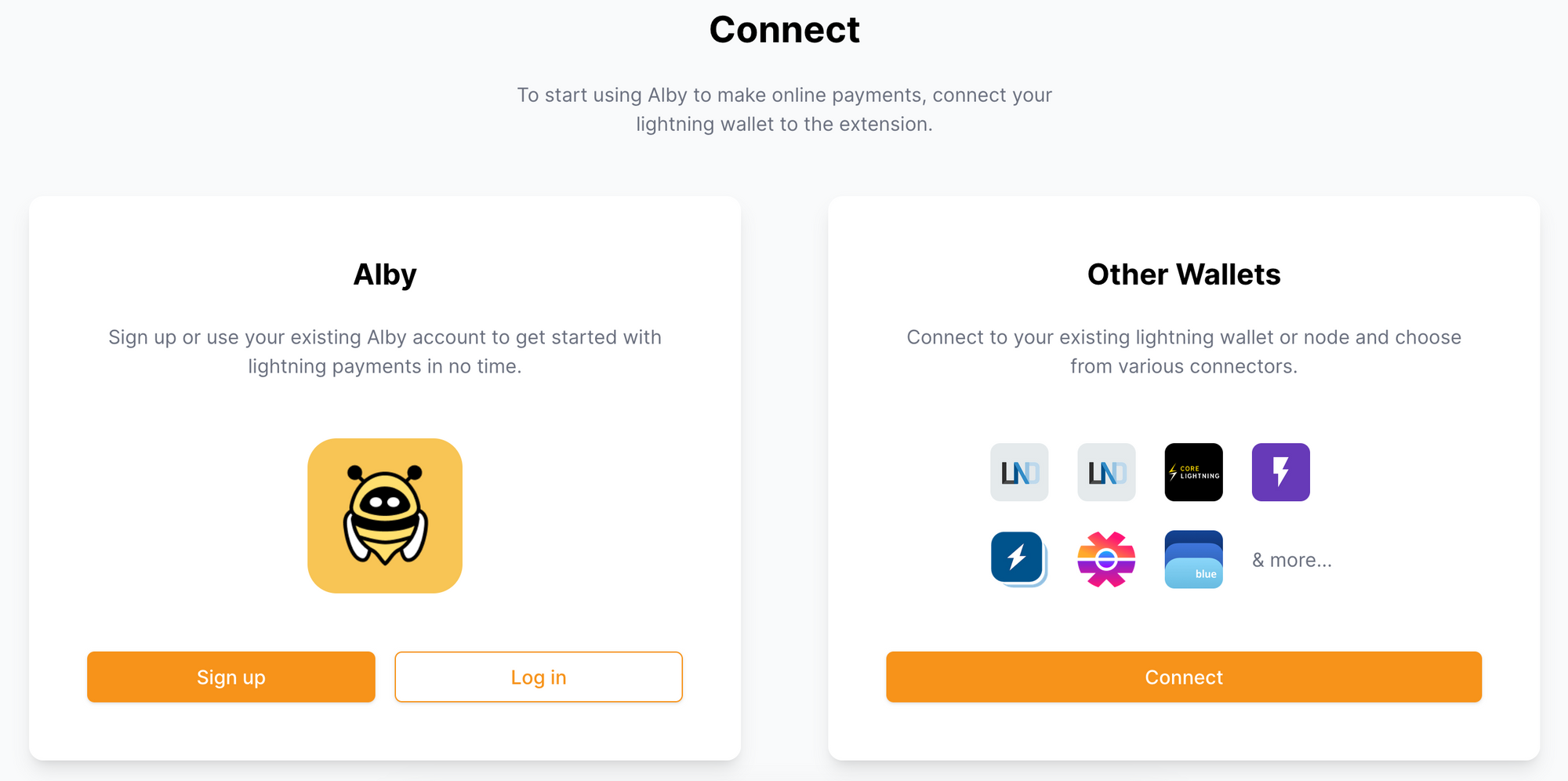 Add your Nostr key
You can use multiple Nostr keys in Alby. Each connected account in the extension has individual Nostr keys. Think of it as your digital identities.
Go to "Accounts" and select your account.
In the Nostr section you configure your keys. (learn more about Nostr keys here!) Always keep in mind to never share your private key and don't forget to make a backup!
Alby allows you to generate a new random key (more secure)  or generate a key from your connected lightning account. (see also our guides). Of course you can also add an existing key or one generated with another tool like rana or nostrogen.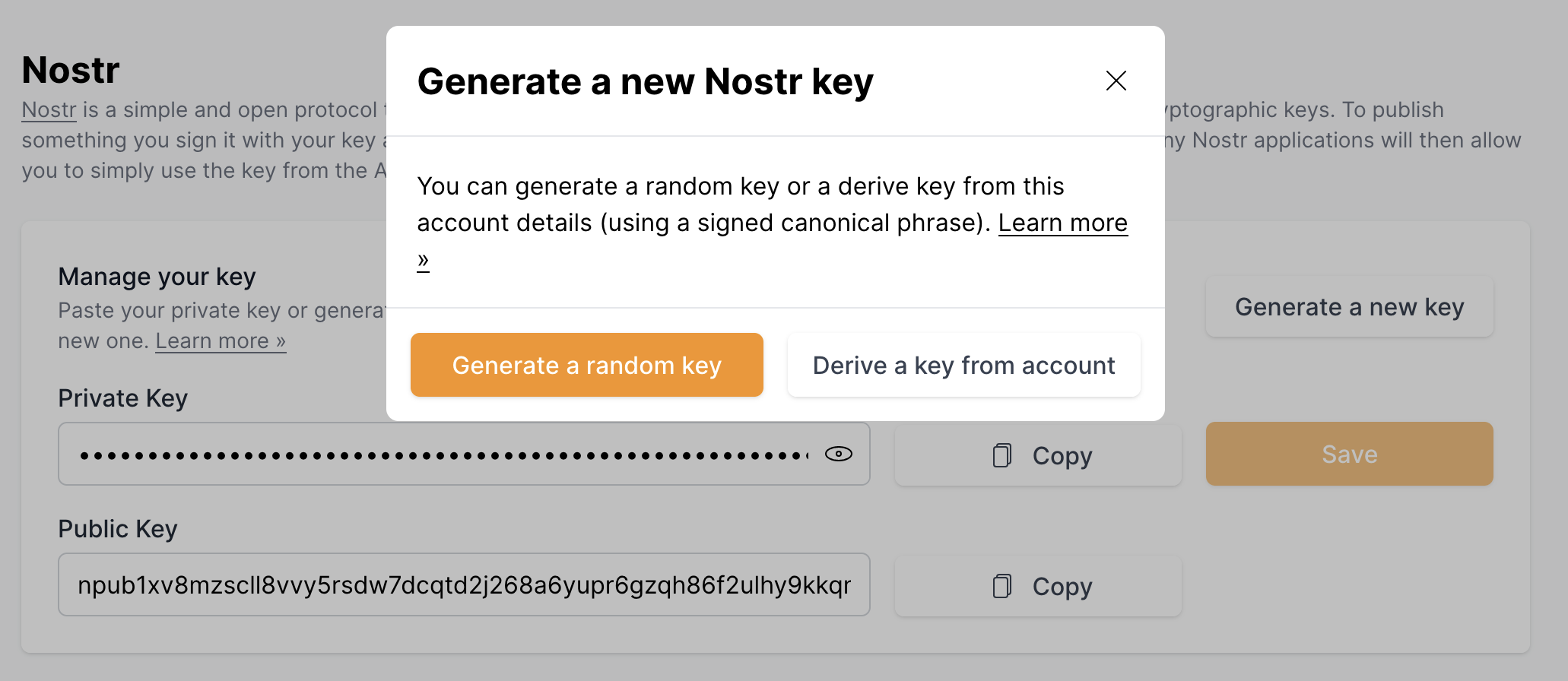 Go to a Nostr web-client
Nostr clients are developing and improving fast. You might still encouter some issues - keep in mind we are the early adopters here and are on the forefront to envision a new social web.
Because you have your identity managed in the Alby extension you can simply try all of them and easily switch between them - no signup or whatsoever is required. That's the beauty of this new web: YOU and only you own your identity. Clients are "only" clients that serve you!
Here are some options: astral.ninja, iris.to, hamstr.to, snort.social.
But keep an eye on new developments, you'll hear it on Nostr ;)
You also use those tools to add your profile details like name or profile image and most important your getalby.com lightning address that people can send you sats.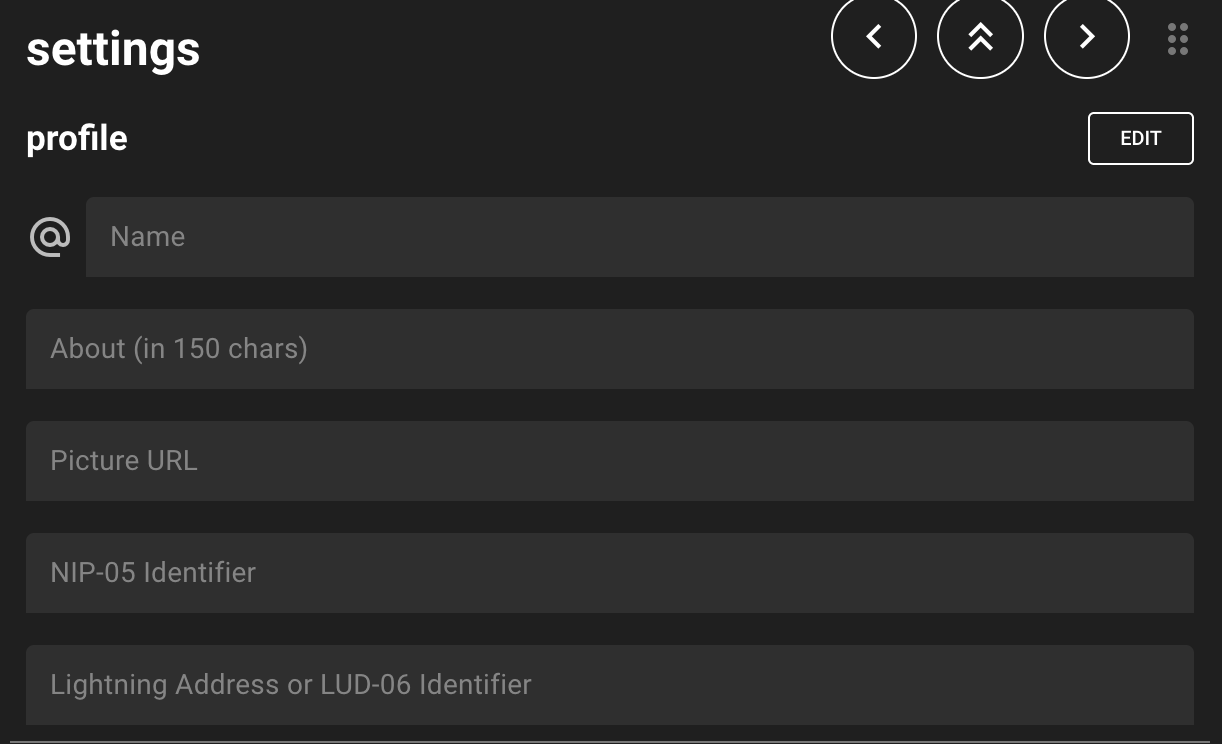 Say hello
Post your first message! Say hi, and remember be excellent to each other.
To post a message the web client asks you to sign the message. The message will be signed with your key and thus proofs it's from you.
Who to follow
Find your friends and people to follow. For this have a look at the helpful nostr.directory. It helps you to find your twitter follows on nostr and lists some top accounts to follow.
Here a few amazing people that you for sure should follow:
jb55: npub1xtscya34g58tk0z605fvr788k263gsu6cy9x0mhnm87echrgufzsevkk5s
jack: npub1sg6plzptd64u62a878hep2kev88swjh3tw00gjsfl8f237lmu63q0uf63m
Snowden: npub1sn0wdenkukak0d9dfczzeacvhkrgz92ak56egt7vdgzn8pv2wfqqhrjdv9
fiatjaf: npub180cvv07tjdrrgpa0j7j7tmnyl2yr6yr7l8j4s3evf6u64th6gkwsyjh6w6
dergigi: npub1dergggklka99wwrs92yz8wdjs952h2ux2ha2ed598ngwu9w7a6fsh9xzpc
Get your NIP-05 identifier
The NIP-05 identifier allows you to proof your identity on a domain and allows people to find you with a human readable address. The getalby.com account comes with a lightning address (e.g. YOU@getalby.com) and you can connect that with your Nostr public key. Then people can easily find you with this address on Nostr.
Go to getalby.com, login and go to "Settings" -> "Profile settings" (note: this is not in the extension but on getalby.com). There load the Nostr "public key from the extension" and save it. Now people can find you with YOU@getalby.com (for example I am michael@getalby.com)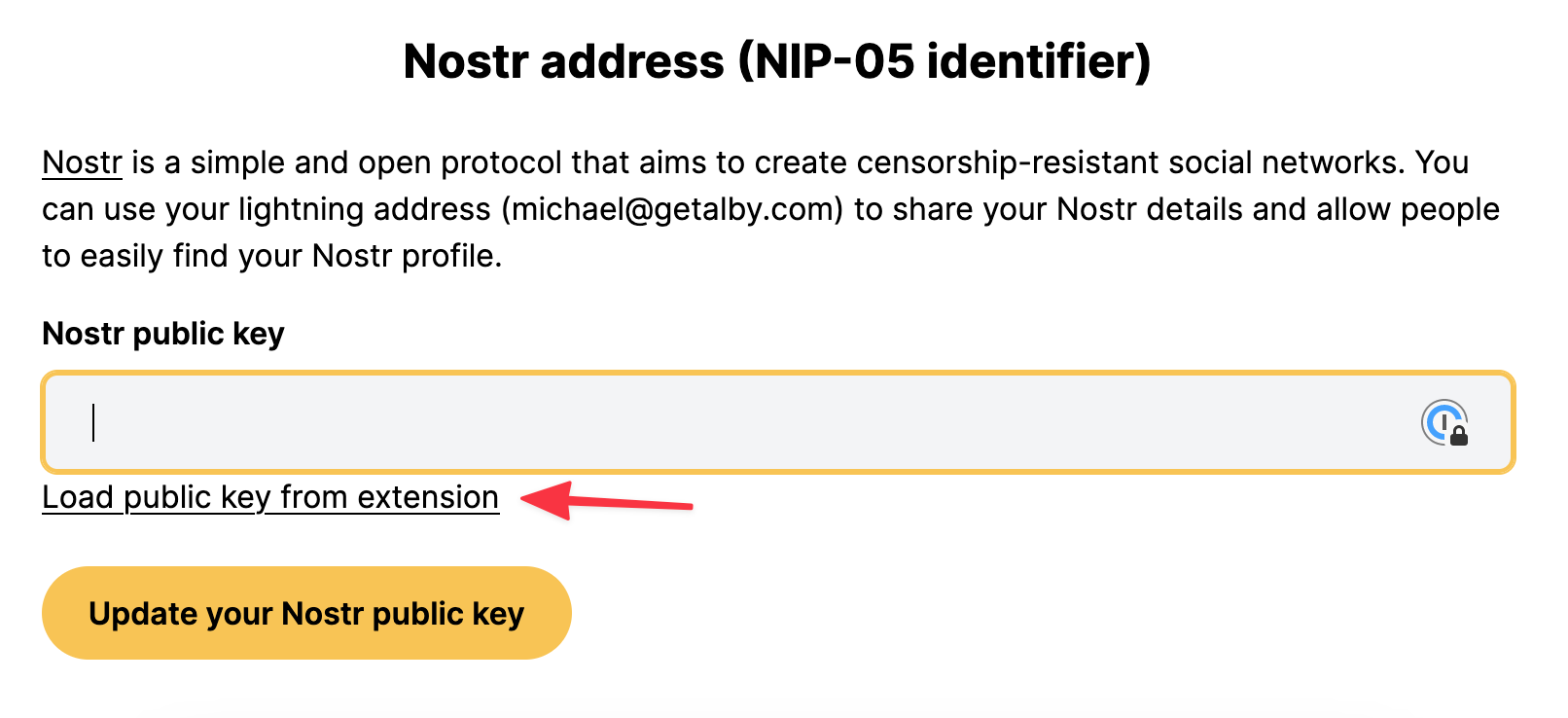 Use another mobile signer
If you want to use another signer app like the amazing Damus use the same key as in Alby. Just configure the same private key in the trusted signing apps - but verify the app first and don't loose your key to some phishing app. You can use all those clients in parallel.
Do you have feedback?
We love to hear from you and how we can improve the Alby experience for you. The Alby extension is built by the community for the community, so join the conversation.