Announcement: Direct Alby account top-up with MoonPay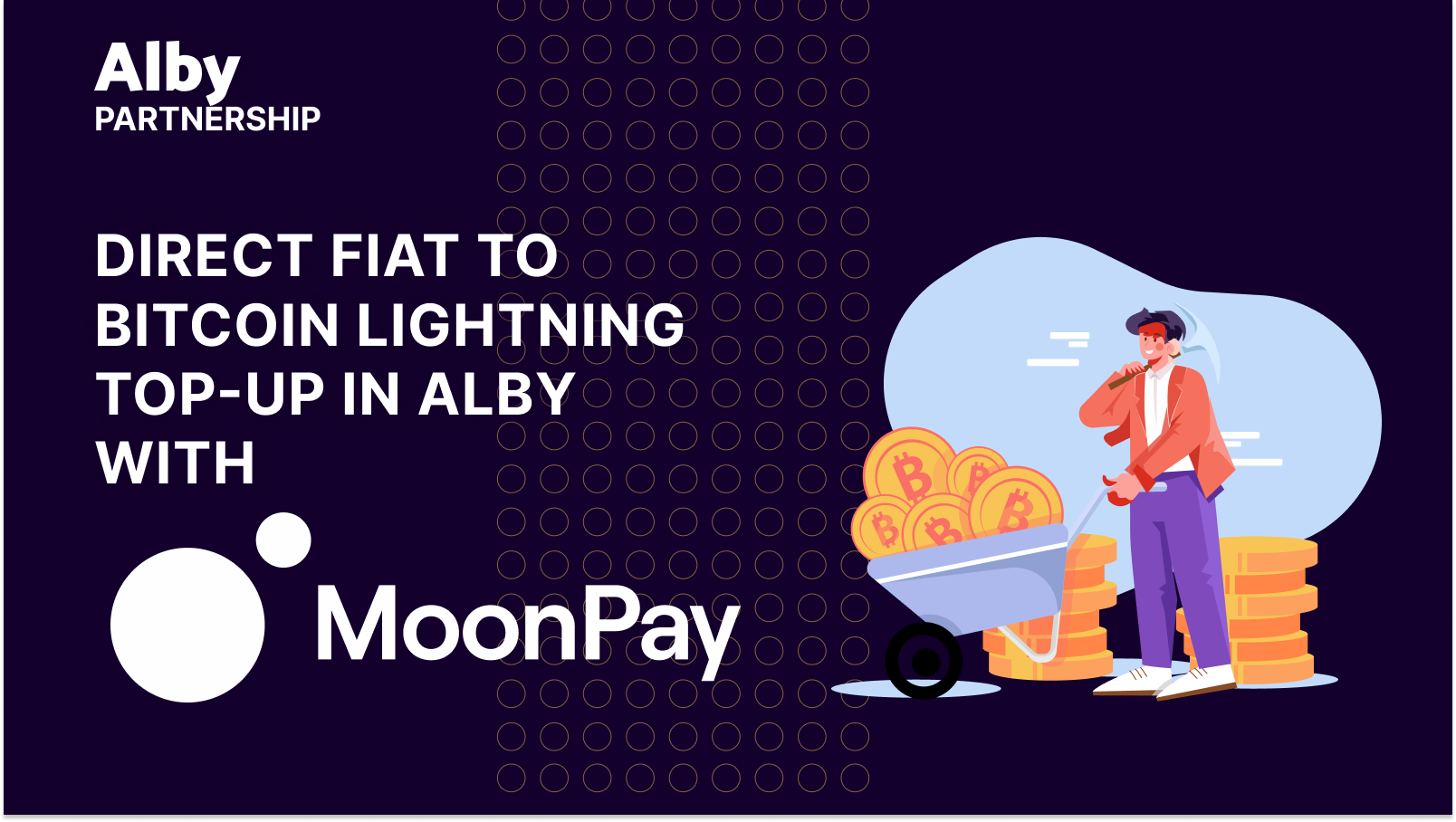 At Alby, we are proud to be strong advocates for open, collaborative, and innovative initiatives on bitcoin and the bitcoin lightning network. It is from this motivation that we are happy to announce our partnership with MoonPay, a top-notch exchange service provider. Until now, there has never been an easier way to go from purchasing your bitcoin to transacting with it on the web
By streamlining the payment process, with the help of MoonPay, users of the Alby bitcoin lightning account can enjoy instant bitcoin purchases and get started sharing value on the web with lightning payments.
This article will cover important details about this new collaboration to help you easily integrate bitcoin purchases into your Alby experience. Converting your fiat to bitcoin for lightning-fast payments has never been so easy, thanks to our new collaboration with MoonPay.
Why partner with a bitcoin exchange service provider?
To better understand the nature of this partnership, let's revisit how users typically get bitcoin on lightning: The lightning network is a software protocol built on top of the bitcoin blockchain (on-chain), meaning that it is a second-layer network (off-chain). It is important to understand that sending bitcoin on-chain to a lightning network address, and vice versa is not possible. But there is an increasing number of bitcoin exchanges that allow withdrawals of bitcoin to lightning network wallets like Alby.
Dedicated to the bitcoin lightning network
However, Alby provides a service dedicated to the lightning network as an application layer, opting to let the extra complexity of the bitcoin settlement layer operate in the background. Before our MoonPay integration, users relied on sending bitcoin from applications like those aforementioned to top up their Alby account, unless they operate their own lightning nodes, of course.
This means that, in both situations, users need to move around various exchanges and applications in order to send bitcoin to their Alby account. The over-complicated nature of this process is evident.
A better user experience on Alby is therefore incomplete without an in-app lightning bitcoin purchasing system for users to fill up their accounts with the click of a button. That is what the MoonPay integration is here for; automating on-chain bitcoin and fiat conversion onto the lightning network.
Bitcoin on-chain addresses for every Alby user
As part of this new exchange feature, every Alby account user can now create a bitcoin on-chain address. This provides even more freedom for topping up your Alby lightning account. Funds sent to this address are automatically swapped to bitcoin using the lightning network and credited to your account thanks to deezy.io. Now every user can send payments from any bitcoin exchange and bitcoin wallet to an Alby account using the dedicated onchain address. Or you use the in-app exchange integration from MoonPay.
What is MoonPay?
MoonPay is a cryptocurrency payment infrastructure service provider helping companies and protocols on/off ramp between their crypto and fiat currency. With a single goal of increasing cryptocurrency adoption, the company has created a secure and simple product enabling bitcoin users like Alby's to get their hands on bitcoin simply, without headache. Alby is proud to count MoonPay as one of its partners as the app now supports various payment methods for simple and quick bitcoin purchases.
How do I purchase bitcoin with MoonPay on Alby?
MoonPay is accessible through the main www.getalby.com dashboard. You can then select your preferred payment method, and enter your payment information in order to purchase bitcoin. The funds are directly sent to your Alby account.
It is important to note that purchased funds from MoonPay require one blockchain confirmation before they are sent to your account which takes ten minutes on average.
The benefits of in-app bitcoin on-ramp features
Nobody likes to see their wallets empty or with insufficient funds after an attempt to pay for an online service or contribute to their favorite creator/podcaster. Especially in the Value-for-Value model, having ready access to bitcoin is a must for a pleasant experience, both from a creator and consumer perspective.
Having the option to buy bitcoin directly within the Alby web dashboard is a significant improvement for users and creators in the ecosystem. It simplifies the overall web lightning experience as a more seamless fiat-to-lightning on-ramp solution for Alby users.
Convert your fiat to bitcoin lightning with Alby
Providing ever-improving lightning network solutions for our users is a key pillar of the Alby team's motivation to bring bitcoin to the web. The previously persistent need to send bitcoin from one application to the next was impeding the everyday Alby user's experience.
That is why a collaborative partnership with MoonPay was a clear answer to simplify purchasing bitcoin on the lightning network. Users can experience seamless bitcoin onramp and payments together with the Alby browser extension. Offramping bitcoin by selling is next on the roadmap.
By fostering an open and collaborative environment, Alby is working towards wider lightning network adoption while bettering the ecosystem with innovative partnerships.