Getting Started with Value4Value using Anchor and Alby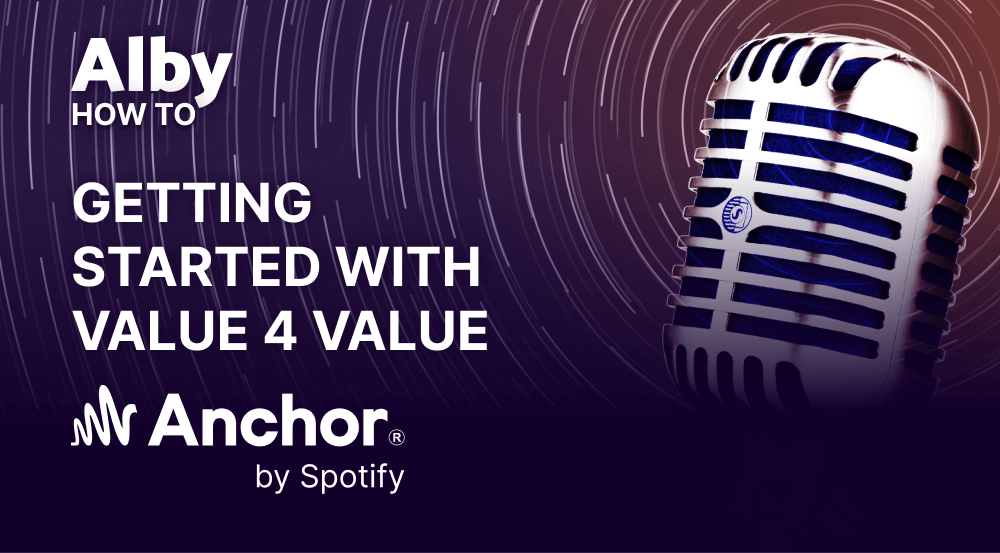 About this Guide
We'll get you started with Value 4 Value using Anchor, Alby, Podcasterwallet and Podcast Index - from creating your podcast and recording your first episode to receiving payments made by your listeners and live analytics in as little as an hour, and completely for free.
If you already host your own podcast on a different platform and just want to receive payments using podcasting 2.0, check out the Alby Podcaster Guide.
What is Podcasting 2.0 and Value4Value?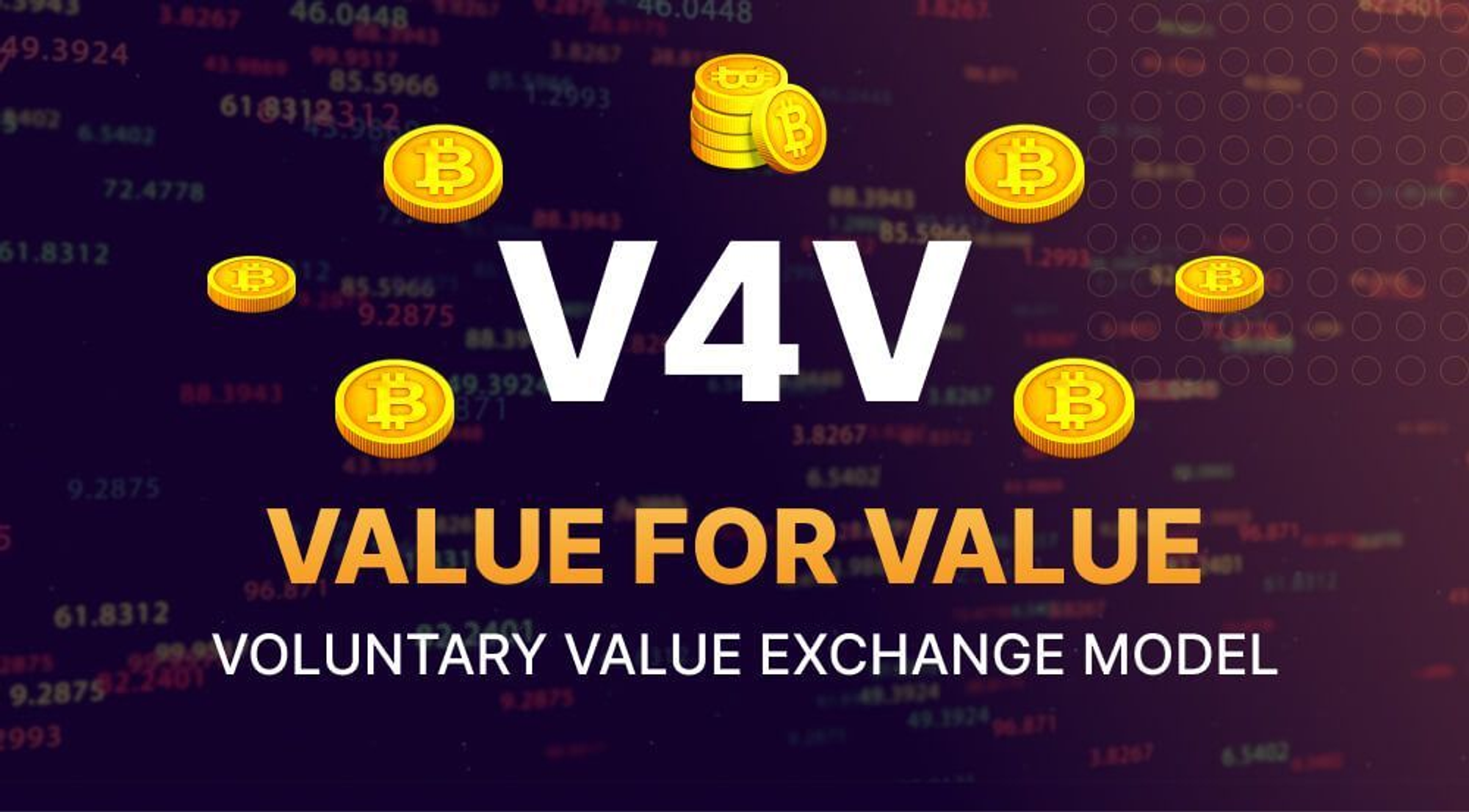 Podcasting 2.0 is a term used to refer to the next evolution of traditional audio-only podcasting, which brings support for video as well as a new Value 4 Value (V4V) payment model. In the V4V model, listeners are able to directly support the content they enjoy through monetary contributions, rather than relying on traditional forms of advertising or sponsorships. This allows for a more personal connection between the podcaster and their audience, as well as more creative freedom and independence for the podcaster.
Receiving V4V Payments, Lightning Fast
The bitcoin lightning network makes V4V possible due to its incredibly low fees, tiny minimum send amounts (less than $0.01 USD), and payment confirmations within seconds. Your listeners can send three main types of payments:
Boosts: a one-off payment sent in thanks for your quality content.
Boostagrams: A message or note sent along with a boost, enabling a more personal connection between you and your listener.
Streaming Payments: Your listeners can choose an amount to send for every single minute they listen to your episode. This is a great option for your long-term listeners who want an easy and automatic way of giving back.
Requirements
To get started, you'll need one of the following:
Android phone or Tablet
Iphone or Ipad
Desktop PC with Chrome or Firefox installed
Part 1: Creating Your Podcast
Before enabling lightning payments you need to have a podcast. I chose Anchor because it's free and really easy and quick to get a podcast up and running.
1. Install Anchor
Install the anchor app on your phone (iOS / Android) or visit the Anchor website on your desktop, and sign up for a new Anchor account. You can log in with your Google email address to make it easy to log in both from your mobile phone and PC. Create a new Podcast by choosing a title, content category, language, and an icon.
2. Record your First Episode
You need at least one episode for your RSS feed to be created, which is needed for your podcast to be distributed to different podcasting applications. I personally did a quick introduction of myself and what I will talk about. Don't worry if it isn't high quality - you can delete it later and upload a new episode in its place, or just roll with it and continually improve so your listeners can see your journey!
3. Get your RSS feed URL
Follow the instructions below to copy your RSS feed URL and save it somewhere. You'll need it later to distribute your podcast and connect lightning payments 🚀
Desktop
Log in to the Anchor website. Click the Settings dropdown on the top right and click "Podcast Availability". Scroll down to RSS Distribution and copy the RSS feed link.
Mobile App
Go to the "Your podcast" tab. Tap on the 3 dots in the top right corner and choose "Podcast Availability". Tap the item "RSS Distribution" and copy the RSS feed link.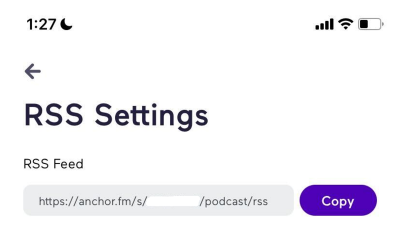 Part 2: Setup Your Alby Account
Alby enables you to receive boosts and boostagrams (link) from your podcast listeners through an Alby hosted wallet to store and track your earnings, and a unique lightning address for an easy way to receive payments (more about this below).
1. Alby Signup
Visit Alby to create your account and podcast wallet.
2. (Optional) Choose a Lightning Address
A lightning address looks just like an email address, but instead of receiving emails you receive payments. You can set your lightning address here. It's useful to have a lightning address as it's a human-readable identifier that you can send to people to receive repeated payments instead of having to create multiple invoices.
3. (Optional) Enable Email Notifications
Go to your Alby user settings and scroll down to "Email notifications", check the box, and click save. You'll be automatically notified when your listeners send you payments!
4. (Optional) Install the Alby Extension
The Alby extension (Chrome /  Firefox) is a bridge between your lightning wallet and lightning-enabled web applications, making it easy to send and receive payments, authenticate anonymously, and more. If you're on a desktop machine, I recommend installing the extension, as you'll be able to use it to see how your desktop-based listeners make payments to support your podcast.
Part 3: Podcast Distribution & V4V
So far your podcast is only available in Anchor. We want it to be accessible by all Podcasting 2.0 apps. We also need to insert some extra information into your RSS feed so that people have a way to pay you. Anchor creates and hosts an RSS feed for you but unfortunately doesn't allow you to change it.
1. Podcast Index

The Podcast Index is here to preserve, protect and extend the open, independent podcasting ecosystem. By submitting your RSS feed to Podcast Index, your podcast becomes available to a variety of podcasting 2.0 apps such as Breez Wallet and Podverse.
2. Podcasterwallet
Podcasterwallet is a companion service for Podcast Index that allows you to submit your RSS feed to Podcast Index and enable V4V payments for non-editable RSS feeds like the one you received from Anchor. Enter the same email address as you used to sign up for Anchor, and paste the link to your RSS feed that you copied earlier, then complete the captcha.
You'll also need to confirm your email address to verify that you are the owner of the RSS feed you linked. Podcasterwallet will ask you to connect to Alby (to get your podcast value tag from https://getalby.com/node which will enable payments to your Alby lightning address) and to submit your RSS feed to Podcast Index. Make sure to confirm this step as the Podcast Index is what will make your podcast become available on Podcasting 2.0-supported applications.
Please note that it will take some time for your new podcast to propagate to different applications. It took about 30 minutes for my podcast to be searchable in Breez wallet and the Podcast Index, and a few more hours for it to show up in the Podverse mobile app.
3. Viewing your Podcast on Podcast Index
After you've confirmed your account in Podcasterwallet and logged in, the home page will show your list of podcasts. Next to the name of your podcast, there is a link button. Click on it and it'll take you to your podcast on Podcast Index.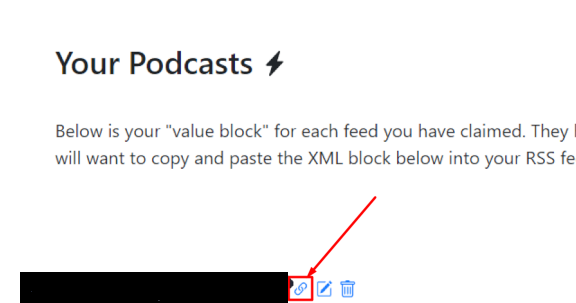 Part 4: Testing V4V Payments
Let's test your setup to make sure payments are going through. It's also good to know how your listeners send payments to you for your amazing content! 🍿
You can see your received payments in Alby either from within the desktop browser extension or on the getalby.com dashboard.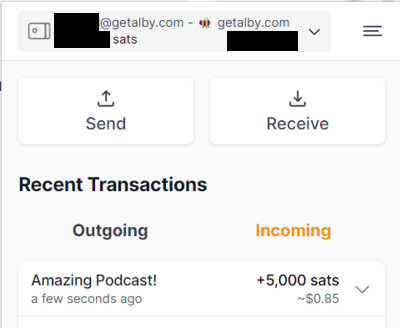 Desktop
Podcast Index
If you have the Alby extension enabled, you will see a new section below where you can try out sending yourself a Boost or Boostagram. You're paying and receiving on the same Alby account, so you won't lose any satoshis for trying this out.

It doesn't seem like Streaming payments are supported in Podcast Index just yet.
Podverse
Visit https://podverse.fm/ and search for your podcast. On the right-hand side of the screen, you will need to accept the terms to be able to connect with your Alby Extension and send boosts and boostagrams.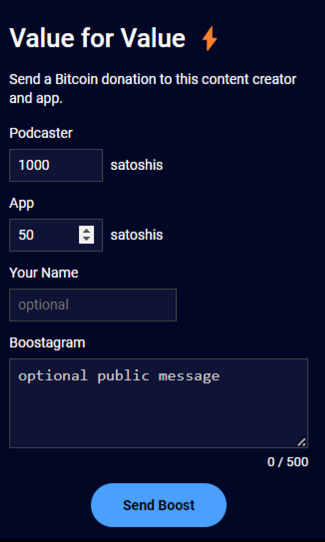 Mobile
Podverse
Install the Podverse app and search for your podcast. You will see a lightning badge on V4V-enabled podcasts. At the top, there will be a $ button. When you click it, it'll ask you to connect a wallet. Currently it supports Alby, so log in with the Alby account you created earlier. You can set your name, and configure how much you'd like to send per boost or stream per minute. You can send boostagrams directly to the podcast from the main podcast page. You can also see how your payment will be split among multiple recipients - pretty cool!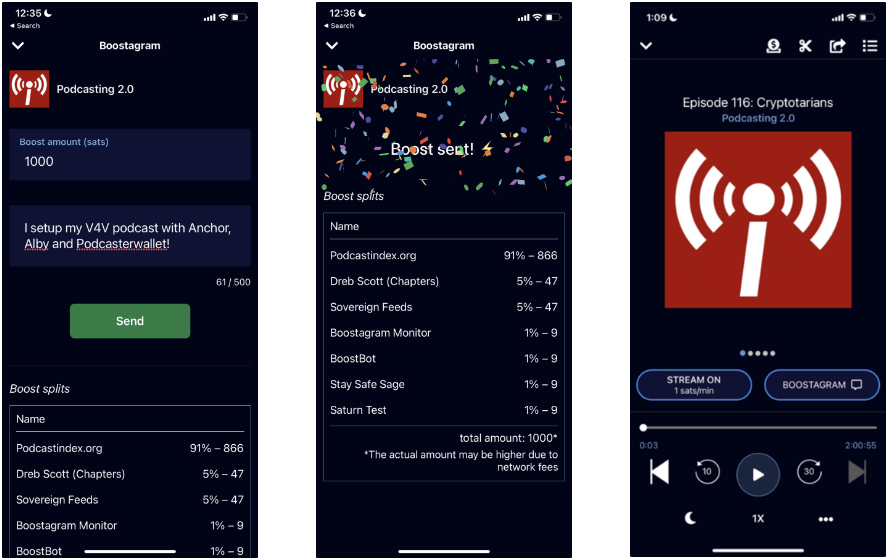 On individual episodes, you can enable streamed payments and send boostagrams there too. It's so easy and feels great to directly support the podcasters. Let's see if my boostagram gets a shoutout in the next episode of the Podcast Index 😎
Breez
Install the Breez wallet app and open the podcast section. Search for your podcast and start playing one of the episodes. You can boost (send a one-off payment) or stream sats (send a micropayment every minute you listen). It doesn't seem like Boostagrams are supported in Breez just yet.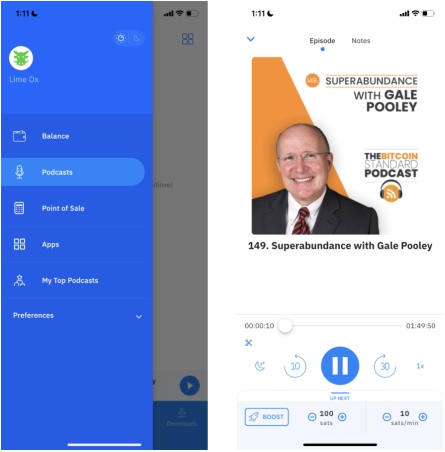 Part 5: Realtime Analytics for your Podcast with Alby SATurn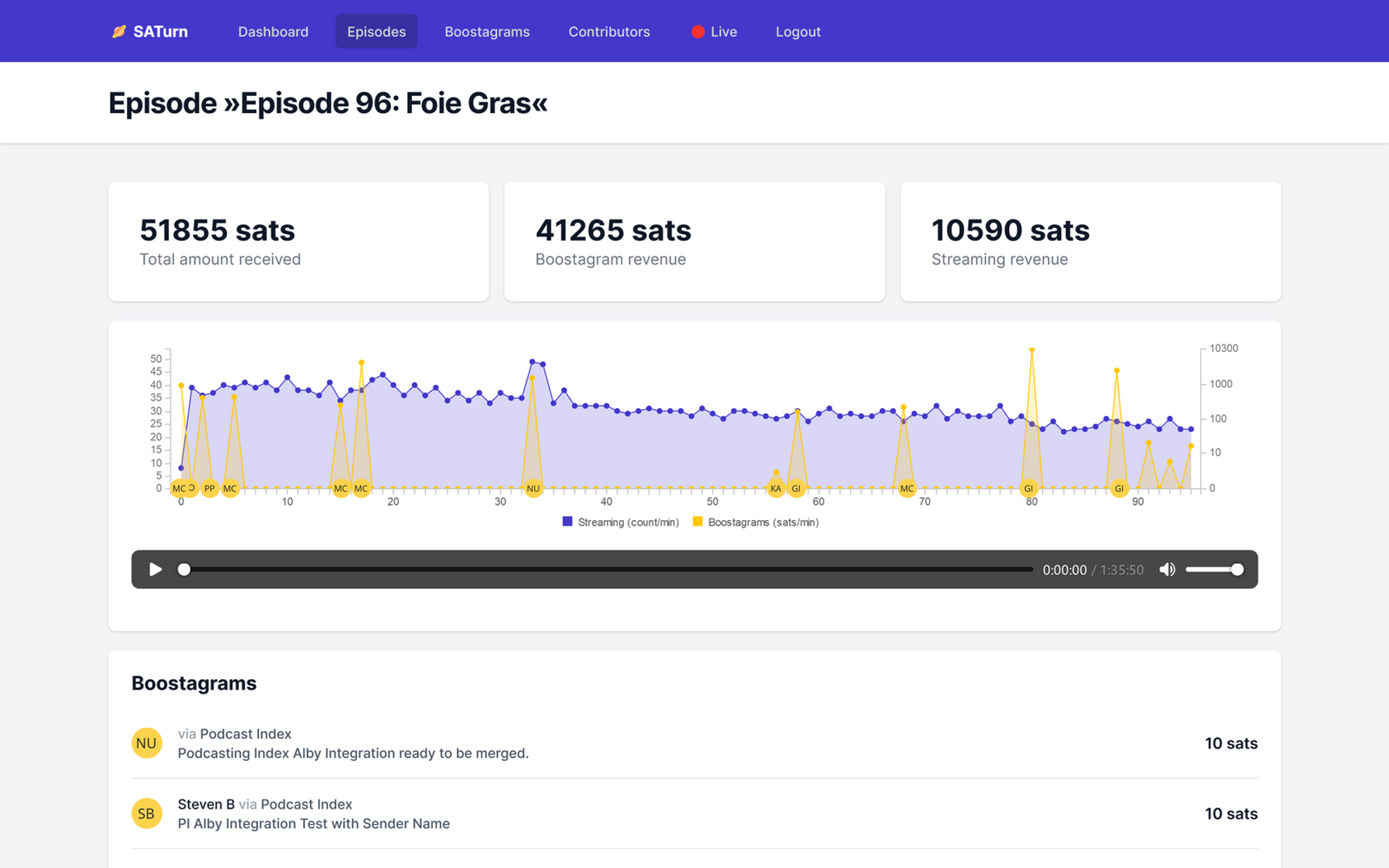 Continue reading the Alby Guide to learn how to get detailed analytics about what your listeners enjoy most, so you can continually improve your podcast and earn more revenue!
Part 6: Next steps
You've got your Podcasting 2.0 setup up and running! Where to go from here?
1. Try More Podcasting 2.0 Applications
There are a bunch of applications your listeners might use to listen and contribute. Try them out to see which ones you like personally and which ones you'd recommend to your listeners.
2. Spread the Word
Spread the word about Podcasting 2.0 to your users and other podcasters you know, as the more people who know about it, the better it is for everyone. V4V, lightning payments, and podcasting 2.0 is far superior to the legacy "The consumer is the product" model - we just need people to see that!
3. Ask your Listeners to Contribute
It's crucial to actively ask your listeners to contribute to your podcast by asking for payments. People are used to listening for free and you need to remind them that they are what makes your podcast possible. Here are a few ideas to make it fun:
Do a shout-out to those who boosted you since your last podcast, and create a greater connection with your audience.
Do a Q&A via Lightning payments (so your listeners have to pay to ask questions!) and also teach your listeners how to get started with Podcasting 2.0 at the same time!
Create and share leaderboards for your top supporters to all your listeners. You can easily find your top supporters in Alby SATurn!
Mere Mortals also has a dedicated podcast about V4V with many helpful tips. You can find them on any podcasting 2.0-enabled app.
4. Host your own Podcast
Anchor is a great and free way to get started, but you have less control over your podcast and no ability to directly modify your RSS feed. By hosting your own feed you'll have extra customization options and a wider reach to more podcasting applications and potential listeners.
Check out the Alby Podcaster Guide for more information on different ways to enable V4V on different podcasting setups.
5. Try out Split Payments
Do a podcast with your friends and split the income! Ask your friend for their podcast:value tag from their Alby dashboard. Open PodcasterWallet again and add another split, adding the values from your friend's podcast:value tag. Make sure the total split amounts add up to 100.
Conclusion
Congratulations! You're now up and running with your own V4V-enabled podcast. If you need any help with Alby or Podcasting 2.0, feel free to join the Alby telegram group and send us a message.
References