Bitcoin on WordPress with the Alby Plugin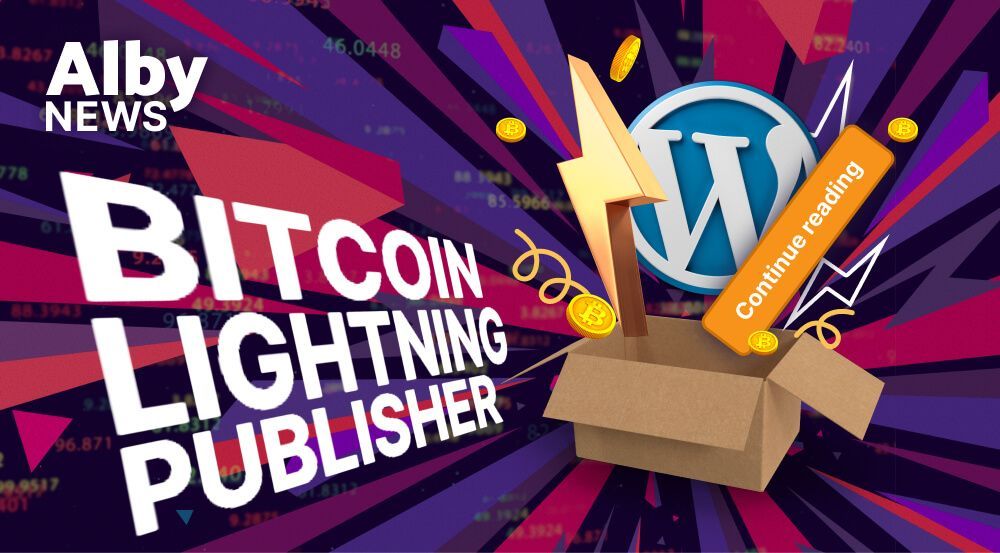 At Alby, we have created the Bitcoin Lightning Publisher, a WordPress plugin that lets users easily monetize content on their websites using Bitcoin on the Lightning Network. The plugin sidesteps the need for expensive payment processing services, making access to paid content a pleasant, streamlined experience. Traditional paywalls can be frustrating for users, who may feel that paying to access a website isn't worth the hassle of filling out forms and creating new accounts. With Alby's WordPress plugin, access-granting microtransactions can occur instantly, with a single click.
WordPress is easily the biggest website management system in the world as around 75 million websites use WordPress to manage content. Alby's new WordPress plugin was designed to be a simple tool for creators to implement, and it contains a number of highly-customizable options to suit the needs of a variety of creators.
Why Did Alby Create a WordPress Plugin?
Alby's WordPress plugin arose out of a commitment to Value for Value (V4V) payment models, in which users make direct donations to compensate creators for their work. V4V is empowering for users, as it sidesteps current compensation models that include pervasive advertising, sponsored content, and affiliate marketing, all of which can limit creator freedom and cultivate a less immersive experience for users.
Alby's WordPress plugin is a publisher-side tool, allowing those with websites to determine exactly what content to provide for free and what content to require payment for. On the other hand, our browser extension is a consumer-side tool that allows sending Bitcoin microtransactions directly to creators on sites including Twitter, YouTube, and even publishers' own websites. Together, these tools are contributing to a new digital donation and payment landscape that is affordable, instantaneous, and user-centric.
What Can Alby's WordPress Plugin Do?
Paywalls are an increasingly popular way for publishers to generate revenue in today's shifting online landscape, but can cause frustration for users and decreased traffic for websites. According to one study from 2019, users tend to be unwilling to subscribe to more than one online news subscription at a time. Traditional paywalls are far from perfect as a payment model.
Alby's WordPress plugin is all about creating an easily-configurable paywall that empowers publishers to engage with consumers. Customizable options include a time-in option wherein articles are free for a fixed amount of time; a crowdfunding option wherein content becomes free once revenue has passed a set threshold; and more. If you're a publisher wondering what setting up the plugin looks like, check out this brief instructional video.
Beyond being an intuitive one-click option for Value for Value payments, Alby's WordPress plugin is another innovative step to scale Bitcoin's usability on the web. At any time, consumers can view the price of an article in various currencies such as Euros, US dollars, and British Pounds.
Why Is WordPress Important?
Nearly half of all existing websites use WordPress. For this reason, a WordPress plugin that integrates Bitcoin microtransactions can have a widespread effect on further adoption of the Lightning Network. The creation of a tool that seamlessly facilitates Value for Value transactions on the most popular content management system is a necessary step toward the popularity of online, peer-to-peer, value exchange.
WordPress' position as an industry standard for online content management can be largely attributed to its ease of use, and their seamless integration of plugins to improve website functionality and customizability. Alby's WordPress plugin can be located and installed easily from the WordPress plugin directory, and can help your site be ready to receive payments and donations in moments.
Alby's WordPress Plugin is a Gamechanger
Considering the browser extension, Lightning Wallet, and WordPress plugin, Alby is putting powerful, yet intuitive, tools into the hands of creators and consumers. At Alby, we believe that online content publishers deserve the option to receive direct compensation for their work without meddlesome middlemen, and that users should be able to easily support the work they value with a single click. In harnessing the power of Bitcoin on the Lightning Network, Alby's WordPress plugin facilitates direct connections to lead the way toward a more equitable landscape for digital transactions.