Alby Buzz: Celebrating new integration partners and 1,000,000 monthly bitcoin payments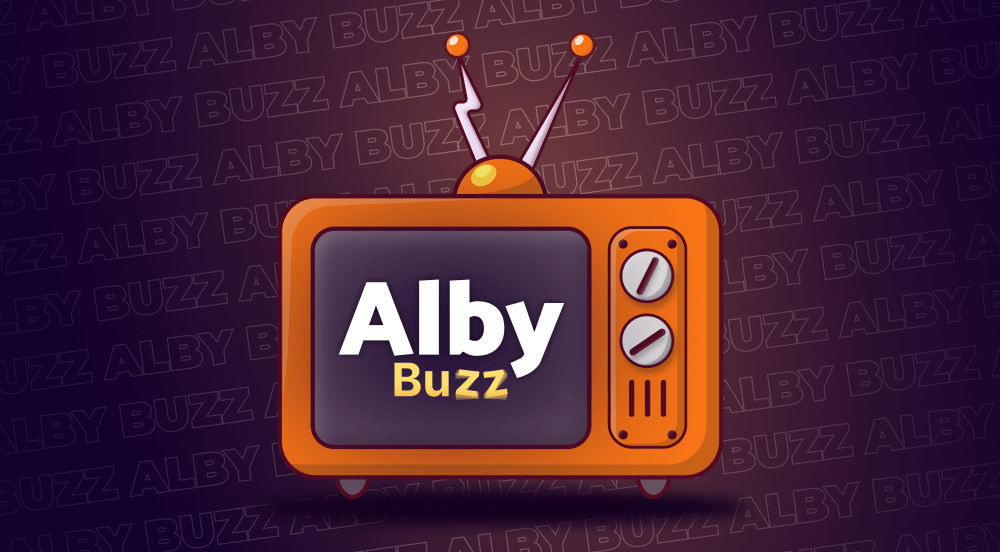 Hello Alby Community!
Welcome to the 20th edition of Alby Buzz, where you find out about everything new at Alby, the bitcoin and Nostr app ecosystem, and are the first to learn about what's coming next.
What's happening in Nostraland?
Past and future hackathon:
Alby processed all payments for the Baltic Honeybadger Conference
Contribute to Bitcoin Open-Source Projects this Hacktoberfest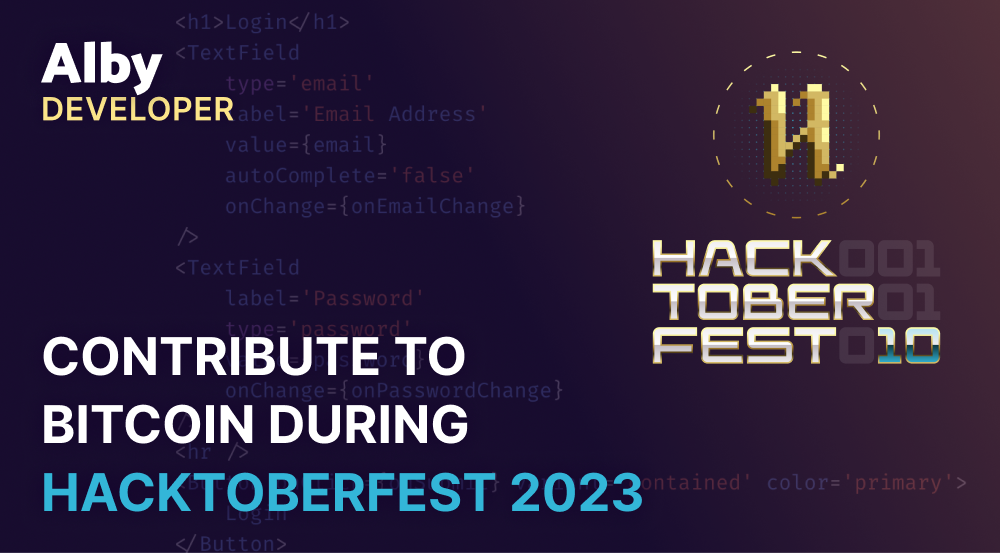 Invitation to join Hacktoberfest 2023! An annual global event in October that celebrates and promotes open-source contributions. 🚀 As a mission-driven open-source bitcoin startup, Alby encourages developers to collaboratively shape the future of important technologies.
Read the full article with useful links about how to participate and win prizes.
Podcasting that Pays™ with PodFans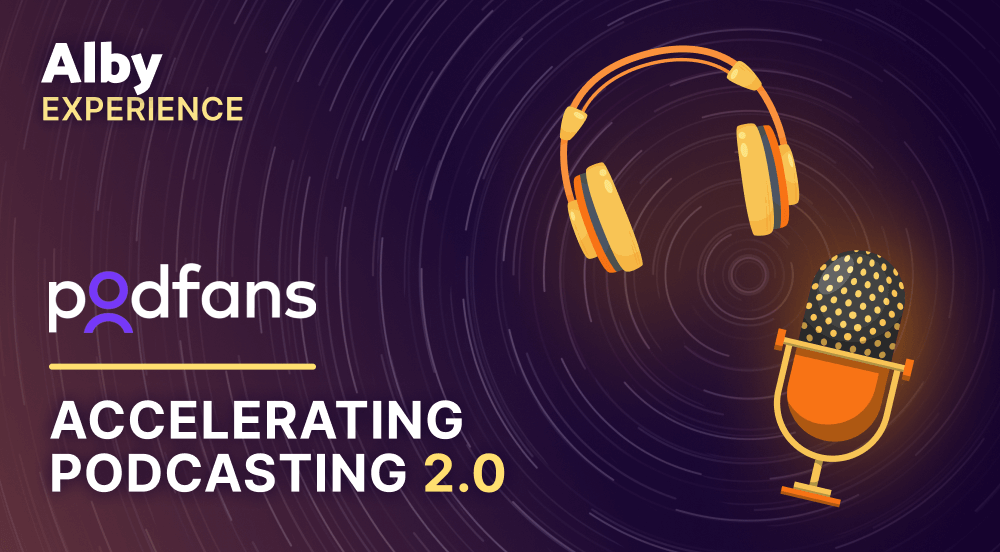 PodFans is a podcasting marketplace where listeners discover the podcasts they love and support their favorite podcasts powered by bitcoin payments provided by Alby. We interviewed Sam Sethi, the founder and CEO of PodFans.
Celebrating 1,000,000 monthly bitcoin payments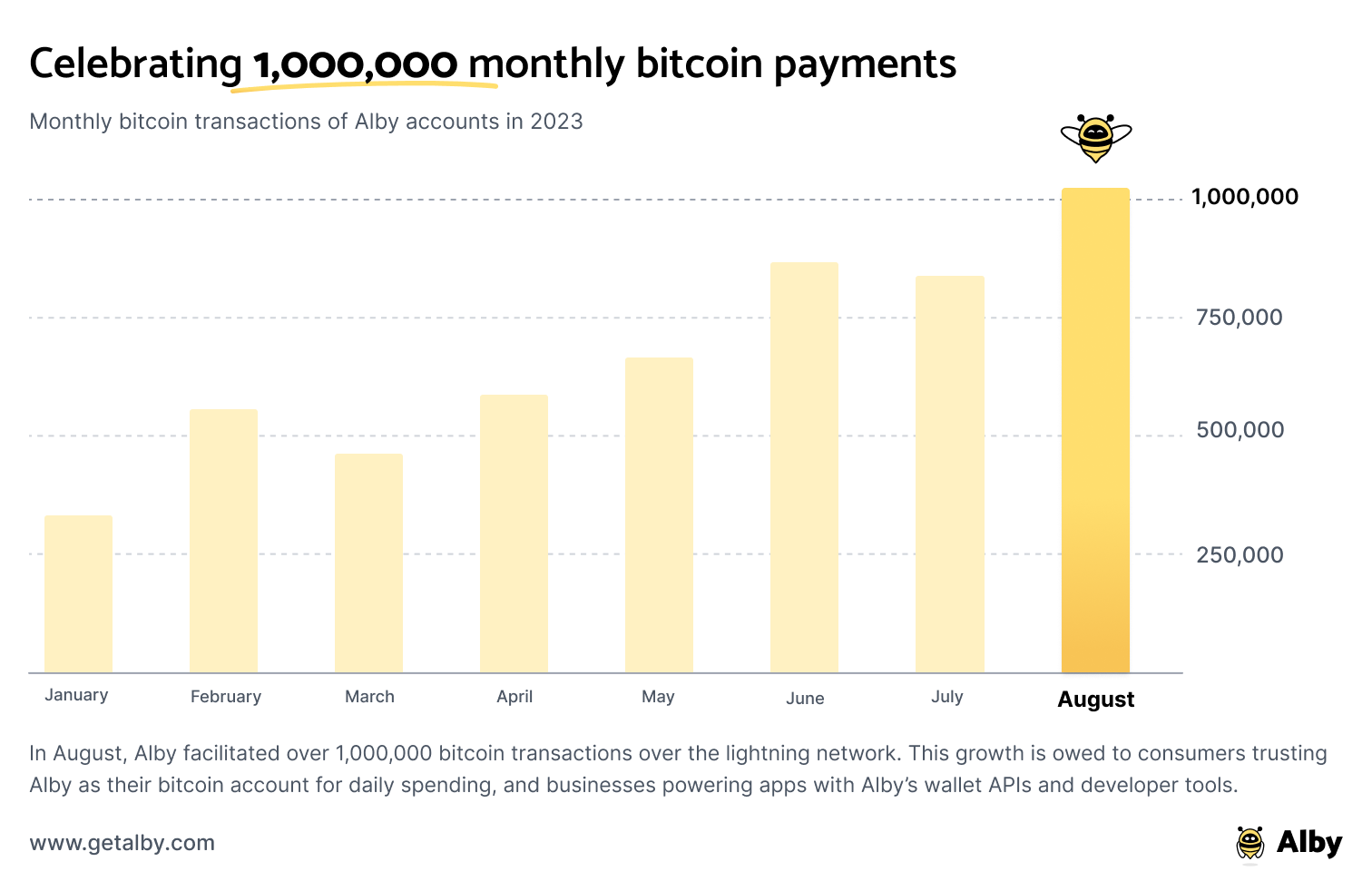 Alby is your companion for bitcoin payments and seamless access to the world of bitcoin apps, merchants and Nostr on the web. Thanks to our community, we have reached another great milestone.
In August, Alby facilitated over 1,000,000 bitcoin transactions over the lightning network. This growth is owed to consumers trusting Alby as their bitcoin account for daily spending, and businesses powering apps with Alby's wallet APIs and developer tools.
Where to meet the Alby team
That's what buzzed us this month. For more, visit our website and follow Alby on Twitter and Nostr: npub1getal6ykt05fsz5nqu4uld09nfj3y3qxmv8crys4aeut53unfvlqr80nfm.
🧡 We love your feedback!
Big or small, feature requests or bug reports, we read them all! You can help us out with it by:
🙌 visiting and submitting to the feedback board.
⭐ leaving a review of our Browser Extension at Chrome or Firefox.
👨‍💻 creating an issue or a pull request on our Github.
💬 joining Alby's Telegram, where our team and users hang out and chat.

Thanks for reading,
See you on the web!